Partnership Opportunities
Small Animal Imaging
Multidimensional quantitative imaging for the biological and material sciences
Technology Overview
High-resolution multidimensional imaging is fast becoming the approach of preference for assessing morphology and anatomy of biological specimens and for many aspects of materials science including prototype assessment, reverse engineering, and model testing. The Small ANimal Tomographic Analysis (SANTA) Facility, directed by Dr. Cox, operates two high-resolution tomographs that are capable of nondestructively imaging a wide variety (and size) of biological and non-biological sample types. The micro-computed tomograph offers both standard as well as in vivo imaging modalities of samples of up to 6.8cm x 20cm at resolutions between 9 and 35 microns. The second scanner, an optical projection tomograph (OPT), is the only unit of its kind in a fee-for-service facility in the US and is ideal for assessing morphology and anatomy in small soft tissues, biopsies, and embryonic material but also can image labeled cells within some non-biological materials. The OPT can perform consecutive scans under different light sources or filters to simultaneously distinguish as many as four different anatomical or cellular structures in the one sample. Both tomographic scanners provide much greater resolution than magnetic resonance imaging, and can handle samples much larger than can be viewed by confocal microscopy.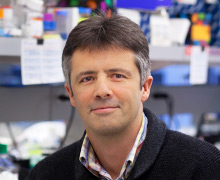 Dr. Timothy Cox
Dr. Cox's imaging expertise and the available state-of-the art imaging tools can be applied to a broad range of biomedical and clinical research questions involving both hard and soft tissues, as well as to non-biological hard materials. Examples of uses of this technology have included evaluation of the impact of environmental factors and genes on embryonic development, measuring bone mineral density, morphology and regeneration, evaluating phenotypic abnormalities associated with pharmaceuticals in pregnant animals, visualizing precious and fragile paleontological samples, evaluating manufacturing precision of plastic and electrical components, and for generating 3D models for software-based testing (eg. military materials).
Consequently, Dr. Cox would be interested in industry collaborations in which his expertise in multidimensional, high-resolution, quantitative imaging could contribute to biomedical, clinical, and bioengineering/engineering studies.
Stage of Development
Pre-clinical ex vivo
Pre-clinical in vivo
Partnering Opportunities
Collaborative research opportunity
Sponsored research agreement
Consultation agreement
Contract based research
Publications
Learn More
To learn more about partnering with Seattle Children's Research Institute on this or other projects, please contact:
Dr. Elizabeth Aylward, Director
Office of Science-Industry Partnerships
Seattle Children's Research Institute
818 Stewart St, Suite 603, M/S 818-S
Seattle, WA 98101
Email
206-844-1065