Partnership Opportunities
Sleep Science – Researching Child, Adolescent, and Family Sleep
Developing and testing real world tools and strategies to help families improve sleep
Technology Overview
Improving sleep is increasingly recognized as a key factor in decreasing obesity, injuries, school and work failure, mental health and behavior problems, as well as affecting day-to-day quality of life and family functioning. Sleep problems during childhood and adolescence provide a unique opportunity because (1) Sleep problems affect as many as 50% of all youth; (2) Most sleep problems in youth have non-medical causes; and (3) These families could use effective tools and strategies to improve sleep on their own, if they had access.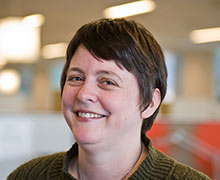 Dr. Michelle Garrison
Dr. Garrison's research has focused on developing and testing family-centered tools and strategies that families can use to set achievable goals around sleep, problem-solve around likely barriers, and work together to improve sleep in ways that make sense for their lives and values. As the PI of the ongoing large scale sleep trial SHIP (Sleep Health in Preschoolers), Dr. Garrison has developed a toolkit and intervention program for families of preschool children with common sleep problems. Both the pilot study and the preliminary trial results show that the toolkit and intervention strategies are having a significantly positive impact on not only child sleep and behavior but overall family quality of life as well. Both the SHIP study and Dr. Garrison's current pilot study, SLUMBER (Sleep, Light, and Media Use at Bedtime in Early Adolescents), also involve helping parents navigate the link between media use and sleep problems in youth, a recurring theme in her published research. Dr. Garrison is currently drawing on her experience with SHIP and previous intervention studies to adapt these intervention strategies for children and adolescents with different developmental and health conditions (such as Autism and ADHD) and different risk factors (such as late night media use). Given the current lack of access to effective, family-centered tools and strategies for childhood and adolescent sleep problems, there are tremendous opportunities here for science-industry partnerships.
Technology plays a critical role in Dr. Garrison's research, and over the years she has accumulated extensive experience and training in app and website design, wearable technology, and usability. Dr. Garrison has 17 years of experience in creating interactive apps and websites for parents and healthcare providers, with roles spanning content production, UI design and usability testing, and development. Given her prior experience in creating successful health behavior change apps and websites, Dr. Garrison is excited about future opportunities to collaborate in the creation or refinement of apps and websites that target health behavior change opportunities around sleep. Across her different studies, Dr. Garrison has used and tested a wide variety of research-grade and consumer model sleep tracking wearable devices, and has gained considerable experience and knowledge in the pros and cons of various design features for different age groups.
Dr. Michelle Garrison's Faces of Research Video
Stage of Development
Pre-commercial
Commercial
Partnering Opportunities
Collaborative research opportunity
Development opportunity
Sponsored research agreement
Consultation agreement
Publications
Learn More