Partnership Opportunities
Scleroderma
Developing Biomarkers to Define Prognostic Groups and Evaluate Treatment Effectiveness
Technology Overview
Juvenile systemic sclerosis (jSSc) is a severe and potentially fatal disease with an estimated annual incidence of 1 per million children. Although jSSc shares many similarities with adult onset disease, the diseases are dissimilar enough that research findings in and potential therapies for adult SSc may not be applicable to jSSc.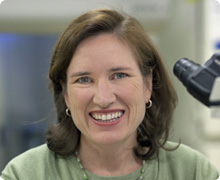 Dr. Anne Stevens
The early identification of disease is critically important for the early initiation of treatment to minimize the risks associated with irreversible effects on growth and development and to prevent organ damage. Given the rarity of jSSc, no prospective treatment trials have been initiated and valid classification criteria and disease outcome measures have yet to be established. Dr. Anne Stevens is leading an international workgroup to develop and validate such criteria. Once defined, these criteria and measures will facilitate identification of early jSSc and lead to improved disease monitoring, as well as provide opportunities to evaluate novel biomarkers and therapeutics in this rare population.
One of the research aims in the Stevens Lab is to define molecular biomarkers that will predict organ involvement, disease course and progression, and can be used to evaluate novel therapeutics. The Stevens Lab has evaluated HLA alleles associated with jSSc and determined that the associations seen in children differ from those associated with adult SSc. Recent efforts have focused on specific autoantibodies in pediatric scleroderma, with the goal of being able to define prognostic groups and link biological phenotypes with treatment outcomes. As with the HLA associations, children were found to have antinuclear antibodies that differed from those found in adults. Better characterization of these antibodies will allow development of treatments specifically targeted to jSSc.
Stage of Development
Diagnostic criteria validation
Biomarker identification
Partnering Opportunities
Collaborative research opportunity
Sponsored research agreement
Consultation agreement
Publications
Stevens AM, Kanaan SB, Torok KS, Medsger TA, Mayes MD, Reveille JD, Klein-Gitelman M, Reed AM, Lee T, Li S, Henstorf G, Luu C, Aydelotte T, Nelson JL. A distinct HLA-DRw8 haplotype characterizes patients with juvenile rheumatoid arthritis. Immunogenetics. 1990;32(5):304-8. Preprint available on request.
Schmeling H, Mahler M, Levy DM, Moore K, Stevens AM, Wick J, McMillan JD, Horneff G, Assassi S, Charles J, Salazar G, Mayes MD, Silverman ED, Reed AM, Klein-Gitelman M, Lee T. Autoantibodies to Dense Fine Speckles (DFS70) in Pediatric Diseases and Controls. J Rheumatol. 2015. Preprint available on request.
Valeur NS, Stevens AM, Ferguson MR, Effmann EL, Iyer RS. Multimodality thoracic imaging of juvenile systemic sclerosis: emphasis on clinical correlation and high-resolution CT of pulmonary fibrosis. AJR Am J Roentgenol. 2015 Feb; 204(2):408-22. PMID: 25615765.
Stevens B, Torok K, Li S, Hershey N, Curran M, Higgins G, Moore K, Rabinovich CE, Dodson S, Stevens A, for the CARRA Registry Investigators. Factors Associated with Significant Disability and Impaired Quality of Life in Children with Juvenile Systemic Sclerosis in the Childhood Arthritis and Rheumatology Research Alliance Registry (2017). (Preprint available on request.)
Learn More
To learn more about partnering with Seattle Children's Research Institute on this or other projects, please contact:
Dr. Elizabeth Aylward, Director
Office of Science-Industry Partnerships
Seattle Children's Research Institute
818 Stewart Street, Suite 603
Seattle, WA 98101
Email
206-884-1065