Partnership Opportunities
Next-Generation Newborn Screening to Improve Treatment Efficacy
Improving therapy for lysosomal storage diseases using a proteomic method for dried blood samples
Technology Overview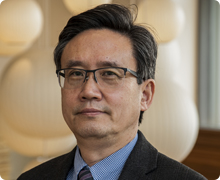 Of the 4 million babies born in the United States every year, as many as 1 in 5,000 have a lysosomal storage or transport disease. Without treatment, these diseases, which include Hunter and Hurler syndromes, cystinosis and Tay-Sachs and Gaucher disease, can have severe developmental consequences. Treatment options include enzyme replacement therapy (ERT), which must be administered as soon as possible after diagnosis.
In some children, therapeutic effectiveness is compromised because their immune system produces antibodies against ERT. This occurs, for example, in as many as 1 in 4 infants with Pompe disease, for whom poor response to treatment can lead to irreparable cardiac damage. The production of ERT-neutralizing antibodies can be averted with immunomodulating therapy before beginning ERT. Testing infants for their potential to generate neutralizing antibodies, however, can mean delaying ERT for months.
Dr. Hahn and colleagues recently published a proof-of-concept paper on a rapid, proteomics-based method that could determine an infant's susceptibility to producing neutralizing antibodies. The method is peptide immunoaffinity enrichment coupled to selected reaction monitoring (immuno-SRM). Immuno-SRM begins with dried blood spots on filter paper, which are routinely collected at birth. Proteins from the samples are enzymatically digested into peptides. Immunoaffinity chromatography enriches for peptides characteristic of a specific lysosomal disease, which are quantified by mass spectrometry (MS). Immuno-SRM uses standard MS instruments available in many clinical laboratories.
Hahn's group has a panel of antibodies for immuno-SRM that could quickly determine when children who are eligible for ERT should first undergo immunomodulation. Hahn participated in clinical trials for the U.S. Food and Drug Administration on Luminzyme, the Genzyme ERT for Pompe disease. He is interested in partnering on developing and validating immuno-SRM assays to determine which newborns with lysosomal storage diseases would benefit from immunomodulation before starting ERT.
Stage of Development
Partnering Opportunities
Collaborative research opportunity
Sponsored research agreement
High throughput screening
Kit Development
Consultation agreement
Clinical Trial
Publications
Jung S, Whiteaker JR, Zhao L, Yoo HW, Paulovich AG, Hahn SH. Quantification of ATP7B Protein in Dried Blood Spots by Peptide Immuno-SRM as a Potential Screen for Wilson's Disease. J Proteome Res 2017. 16(2):862-871. doi: 10.1021/acs.jproteome.6b00828.
Jung S, Tran NT, Gospe SM Jr, Hahn SH. Preliminary investigation of the use of newborn dried blood spots for screening pyridoxine-dependent epilepsy by LC-MS/MS. Mol Genet Metab. 2013. 110(3):237–40. doi: 10.1016/j.ymgme.2013.07.017.
Kerfoot, SA, Jung S, Golob K, Torgerson RT, Hahn SH. Tryptic peptide screening for primary immunodeficiency disease by LC/MS-MS. Proteomics Clinical Applications. 2012. 6 (7-8): 394–402. doi: 10.1002/prca.201100096.
Learn More
To learn more about partnering with Seattle Children's Research Institute on this or other projects, please contact:
Dr. Elizabeth Aylward, Director
Office of Science-Industry Partnerships
Seattle Children's Research Institute
818 Stewart Street, Suite 603
Seattle, WA 98101
Email
206-884-1065