Partnership Opportunities
Treatment of Isolated Lymphatic Malformations (LM) With mTOR/PI3K inhibition
Clinical trial opportunities in pediatric LM
Technology Overview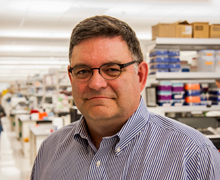 Dr. Jonathan Perkins
Lymphatic malformations (LMs) are non-malignant, fluid filled masses that largely occur in the head and neck region during embryonic growth. The abnormal lymphatic channels within the malformation are dilated and exhibit slowed emptying back into the venous system. This results in swelling of the affected area. LMs can occur in isolation as a single malformation or as part of other conditions. Gorham's disease, or vanishing bone disease, is associated with bone loss and rapid growth of small blood or lymphatic vessels. Individuals with CLOVES syndrome (Congenital, Lipomatous, Overgrowth, Vascular Malformation, Epidermal Nevi, and Spinal/Skeletal Anomalies and/or Scoliosis), Noonan syndrome, Turner syndrome, and Klippel-Trenuanay syndrome may also have LMs.
Approximately 80% of isolated lymphatic malformations can be attributed to an activating mutation in the PI3KCA gene. This is a non-inherited mutation that results in dysregulated cell growth and division. Mutations in PI3KCA and its downstream effectors are frequently found in cancer. The drug Sirolimus targets this pathway and is currently used to treat LMs but with mixed results. Recent preclinical research and human studies suggest that PI3K3CA inhibitors may be a promising therapeutic strategy in patients with LMs.
The Vascular Anomaly program at Seattle Children's Hospital is in a good position to collaborate with pharmaceutical companies that engineer therapies to target the mTOR/PI3K pathway. The program draws patients from a large regional area, including Hawaii and Alaska, who benefit from our multidisciplinary expertise in treating lymphatic malformations and other vascular anomalies. We are in the position to enroll a sizable, homogenous pediatric cohort to test the efficacy of mTOR/PI3K inhibition therapies on isolated lymphatic malformations. Our team, which includes genetics, surgery, otolaryngology, craniofacial, hematology/oncology, and radiology, has developed methodologies to evaluate treatment effectiveness, including the use of a Quality of Life survey for patients with lymphatic malformations. Our program also supports a registry that includes longitudinal clinical and genetic information. The team is currently working toward establishing a clinical gene panel to assess mutations in PI3K and related genes commonly found in vascular anomaly tissue.
Stage of Development
Clinical trial development
Partnering Opportunities
Clinical trial
Collaborative research opportunity
Sponsored research agreement
Consultation agreement
Publications
Luks VL, Kamitaki N, Vivero MP, Uller W, Rab R, Bovee JV, Rialon KL, Guevara CJ, Alomari AI, Greene AK, Fishman SJ, Kozakewich HP, Maclellan RA, Mulliken JB, Rahbar R, Spencer SA, Trenor CC, Upton J, Zurakowski D, Perkins JA, Kirsh AL, Bennett JT, Dobyns WB, Kurek KC, Warman M, McCarroll SA, Murillo R. (2015) Lymphatic and other vascular malformative/overgrowth disorders are caused by somatic mutations in PIK3CA. J Pediatr. 166(4):1048-1054. PMID: 25681199

Piacitelli AM, Jensen DM, Brandling-Bennett H, Mariner M, Batra GM, Gust J, Paschal C, Tsuchiya K, Pritchard CC, Perkins JA, Mirzaa GM, Bennett JT. Characterization of a severe case of PIK3CA-related overgrowth at autopsy by droplet digital PCR and report of PIK3CA sequencing in 22 patients. Am J Med Genet A. In press.
Learn More
To learn more about partnering with Seattle Children's Research Institute on this or other projects, please contact:
Dr. Elizabeth Aylward, Director
Office of Science-Industry Partnerships
Seattle Children's Research Institute
818 Stewart Street, Suite 603
Seattle, WA 98101
Email
206-884-1065