Partnership Opportunities
Lupus – T-Cell Targets
Targeting T Lymphocytes
Technology Overview
Systemic lupus erythematosus (SLE) is a chronic multisystemic autoimmune disease with poorly understood etiology and pathogenesis for which adequate treatment options are limited. Although loss of T-lymphocyte self-tolerance is clearly implicated in the pathogenesis, no treatments targeting T cells specifically are available to lupus patients.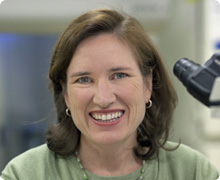 The Stevens Lab is testing novel therapeutic agents targeting proteins that could regulate T lymphocytes without suppressing them. The basis for these studies is the hypothesis that loss of T-lymphocyte regulation occurs via costimulatory molecule defects.
One of these costimulatory molecules, PD-L1, inhibits allo- and autoreactive T cells through the receptor PD1. Animal models deficient in PD1 signaling are prone to autoimmune diseases similar to SLE. Autoimmunity is emerging in patients treated with PD1 antagonists for malignancies. In SLE patients, polymorphisms in the gene for PD1 are associated with SLE, and PD-L1 and PD1 expression on blood cells is low. Thus, replacing PD1 signaling activity could lead to immune regulation to control inflammation, rather than immunosuppression.
The long-term goal of this project is to improve clinical practice by identifying novel PD1-binding peptide moieties that represent biologic therapy.
Such therapies may also be useful in other autoimmune diseases in which dysregulation of lymphocytes is implicated, including rheumatoid arthritis and juvenile idiopathic arthritis.
As part of a nationwide pediatric rheumatology research network, Dr. Stevens is developing clinical trial protocols and biomarker studies for pediatric SLE.
Stage of Development
Partnering Opportunities
Collaborative research opportunity
Sponsored research agreement
Consultation agreement
Sample access
Publications
Shenoi S, Ou J-N, Ni C, Gersuk VH, Wallace CA, Mellins ED, Stevens AM (2015) Comparison of Biomarkers for Systemic Juvenile Idiopathic Arthritis. J. Pediatric Research 78(5):554-9. doi: 10.1038/pr.2015.144. PMID: 26267155
Ou J-N, Wiedeman AE, Stevens AM (2012) TNF-α and TGF-ß Counter-Regulate PD-L1 Expression on Monocytes in Systemic Lupus Erythematosus. Sci Rep. 2012:2:295. doi: 10.1038/srep00295 PMCID: PMC3291882
Mozaffarian N, Wiedeman AE, Stevens AM. (2008) Active Systemic Lupus Erythematosus is Associated with Failure of Antigen Presenting Cells to Express Programmed Death Ligand-1. Rheumatology. 47 (9):1335-1341. PMCID: PMC2722808
Learn More
To learn more about partnering with Seattle Children's Research Institute on this or other projects, please contact:
Dr. Elizabeth Aylward, Director
Office of Science-Industry Partnerships
Seattle Children's Research Institute
818 Stewart Street, Suite 603
Seattle, WA 98101
Email
206-884-1065