Partnership Opportunities
Immunotherapy for High-Risk Neuroblastoma
Immune checkpoint inhibitors and CAR-T therapies for relapsed pediatric solid tumors
Technology Overview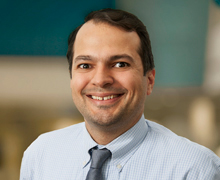 Dr. Navin PintoDr. Navin Pinto's research is focused on treatment of relapsed pediatric solid tumors, particularly high-risk neuroblastoma. With approximately 600 cases diagnosed per year, neuroblastoma is a rare pediatric cancer that affects the sympathetic nervous system in the adrenal glands, abdomen, and chest. High-risk neuroblastoma is currently treated with surgery, radiation, high-dose chemotherapy with autologous stem cell transplantation and monoclonal antibody therapy. Dr. Pinto is working to improve outcomes by finding new therapies and prognostic indicators for high-risk neuroblastoma.
Dr. Pinto has recently worked to establish the pattern of expression of immune checkpoints in pediatric solid tumors to determine if they will respond to this type of immunotherapy. He is the primary investigator for a large international clinical trial for the use of immune checkpoint inhibitors in pediatrics (KEYNOTE-51). Immune checkpoint inhibitors are a class of immunotherapy drugs that allow for an increased response of the immune system against tumor cells. These monoclonal antibodies block the interaction and activity of immune checkpoints, which are upregulated on the surface of tumor cells.
Additionally, Dr. Pinto is collaborating with Seattle Children's oncologists Drs. Julie Park and Michael Jensen on the use of chimeric antigen receptor (CAR) T-cell therapy for high-risk neuroblastoma. CAR T-cell therapy utilizes the patient's own T-cells, engineered with a chimeric antigen receptor for the tumor cell, to increase the immune response against these cells.
Dr. Pinto would be interested in projects with industry partners on novel therapeutics for relapsed pediatric solid tumors, including high-risk neuroblastoma, sarcoma, kidney, and liver cancers. Such treatments include immunotherapy or the use of pharmacogenomics and precision medicine for prognostic biomarkers of disease.
Stage of Development
Partnering Opportunities
Collaborative research opportunity
Sponsored research agreement
Consultation agreement
High throughput screening
Tissue sample access
Clinical trials
Publications
Learn More