Partnership Opportunities
Activity Trackers and Apps
Optimizing activity tracker and app use to promote physical activity, health and wellness
Technology Overview
The array of wearable fitness tracking technology and apps on the market today has opened the doors to a whole new range of health and wellness opportunities for wearers, as well as data collection potential for clinical researchers. While fitness trackers can measure numerous parameters and present condensed results back to the wearer, the systems currently on the market are underutilizing the available activity data, and developing dynamic ways of analyzing these data to help guide better health management is an area of unmet need. Furthermore, most fitness trackers and apps are designed and optimized for adult use despite the great potential for these devices to have positive impacts on children and adolescents as well.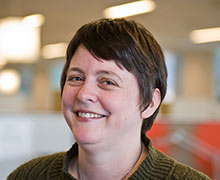 Dr. Michelle Garrison
In the recently completed Wireless Assessment Technology Toolkit Study (WATTS ) funded by the Verizon Foundation, Dr. Garrison has been studying how wearable fitness trackers can be used to promote better sleep health and physical activity in children at risk for obesity. Dr. Garrison has identified some of the barriers with current fitness tracking technology use in youth and families, including addressable design and UI issues. The development of software platforms and apps for whole families to cooperatively interact together using trackers could promote greater support for each individual to achieve their personal activity goals. Furthermore, having family-wide engagement in the app can serve to promote greater use of the hardware and software, thus improving datasets that can be used for health recommendations and research analysis. In both this and earlier studies, Dr. Garrison gained experience in content and UI development for interactive health behavior change websites and apps aimed at both youth and families.
Through her clinical and fitness tracking studies, Dr. Garrison has accumulated extensive experience and data working with a broad range of children and adolescents and in content and UI development. This experience can inform collaborations to develop better behavioral sleep and physical activity interventions, and in developing new user experiences and interfaces for existing sleep and activity tracker products.
Dr. Michelle Garrison's Faces of Research Video
Stage of Development
Pre-commercial
Commercial
Partnering Opportunities
Collaborative research opportunity
Development opportunity
Sponsored research agreement
Consultation agreement
Learn More