Partnership Opportunities
Craniofacial Birth Defects
Connecting the contributions of genes, diet, and environment to disease susceptibility and presentation
Technology Overview
The Cox laboratory is investigating the genetics of craniofacial birth defects and the role of dietary and environmental factors in modifying disease susceptibility and severity. One of the greatest challenges facing personalized medicine is the fact that genetic susceptibility does not predict disease severity or clinical presentation of almost all conditions, and craniofacial birth defects such as cleft lip/palate which affect as many as 1 in 600 live births, is no exception. As one of the lead investigators on an international cleft lip/palate consortium, Dr. Cox's expertise focuses on identifying new candidate genes/variants from the wealth of genome-scale sequencing data that is being generated as part of this program. These data feed into the unique developmental, cell and quantitative biology laboratory that Dr. Cox has established. Here, Dr. Cox combines high-resolution in vivo and ex vivo microCT and optical tomography with custom 3D shape analysis tools to assess phenotypes in small animal models. The goals are to gain a better understanding of the impact of individual gene mutations and their interaction with non-genetic factors (diet and the environment) on cranioskeletal and dentofacial morphology, anatomy, and bone/tooth mineral density. Both tomographic scanners offer high resolution non-destructive imaging, provide much greater resolution than magnetic resonance imaging, and can handle samples much larger than can be viewed by confocal microscopy.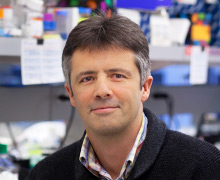 Dr. Timothy Cox
Although Dr. Cox's research is focused on understanding facial development, his imaging expertise and his state-of-the art imaging tools can be applied to a broad range of biomedical and clinical research questions involving both hard and soft tissues, as well as to non-biological hard materials. The ability to image using X-rays or white, infrared and UV light sources allows for the detection of a wide range of tissue densities, stains, fluorescence signals and the inherent autofluorescence of tissue. Consequently, these imaging methods can be adapted to assess a wide variety of questions, ranging from evaluating the impact of environmental factors in development, measuring bone mineral density, evaluating phenotypic abnormalities associated with pharmaceuticals in pregnant animals, assessing paleontological samples and evaluating manufacturing precision.
Consequently, Dr. Cox would be interested in industry collaborations in which his expertise in multidimensional, high-resolution, quantitative imaging could contribute to biomedical, clinical, and bioengineering studies.
Stage of Development
Pre-clinical in vitro
Pre-clinical in vivo
Pre-clinical ex vivo
Partnering Opportunities
Collaborative research opportunity
Sponsored research agreement
Consultation agreement
Publications
Learn More
To learn more about partnering with Seattle Children's Research Institute on this or other projects, please contact:
Dr. Elizabeth Aylward, Director
Office of Science-Industry Partnerships
Seattle Children's Research Institute
818 Stewart St, Suite 603, M/S 818-S
Seattle, WA 98101
Email
206-844-1065