Research Programs
Cellular Therapeutics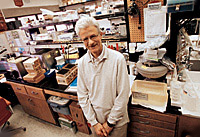 Center for Immunity and Immunotherapies investigators and members of the Division of Immunology at Seattle Children's provide diagnostic services and expert ongoing care for pediatric and adult patients with primary immune deficiency diseases referred from throughout the Pacific Northwest and beyond.
They also work in concert with members of the Seattle Cancer Care Alliance Pediatric Stem Cell Transplant Program to coordinate NIH-supported clinical trials for marrow transplantation for multiple nonmalignant conditions, including immune disorders and bone marrow failure syndromes.
Read about other innovative programs our center provides, including gene therapy and repair and molecular diagnostics.