Research Centers and Programs
Zheng Lab
Picture of UMAP visualization of single cells from the gastrointestinal tract
The Zheng Lab is dedicated towards understanding the pathways of disease in pediatric gastrointestinal autoimmune conditions such as Crohn's disease (CD) and ulcerative colitis (UC). Inflammatory bowel disease (IBD), which includes Crohn's disease and ulcerative colitis, is a chronic complex autoimmune condition that affects the gastrointestinal tract, and afflicts 1.4 million people in the United States. The incidence and prevalence of pediatric IBD is increasing over time and encompassing larger areas of the world. The pathways underlying these diseases are areas of research and deciphering these mechanisms would enable the personalization and specialization of individual treatment regimens.
The translational clinical trial PREDICT is a national pediatric trial in collaboration with Dr. Leslie Kean at Boston Children's Hospital. At Seattle Children's, we work closely with the Pediatric Gastrointestinal Division and IBD Center at Seattle Children's Hospital to discover the immune dysregulation through blood and gastrointestinal tract samples. We use techniques such as flow cytometry, immunohistochemistry and single cell RNA sequencings (scRNAseq) to discover the pathways of disease and decipher how treatment modalities may target disease progression.
Investigator Biography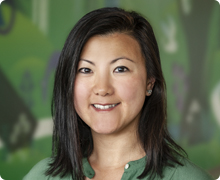 Dr. Betty Zheng studies theƒ field of mucosal immunology as it pertains to mucosal disease such as in inflammatory bowel disease (IBD) and graft-versus-host disease (GVHD). She uses the application of basic science to clinical practice through clinical trials and human tissue/blood analysis. She graduated from Massachusetts Institute of Technology with a major in biology and a minor in biomedical engineering. She then pursued her medical education at the University of Maryland School of Medicine and continued on at the University of Maryland Pediatrics Residency. Following her residency, she sought out additional training in the Pediatric Gastroenterology, Nutrition and Hepatology Fellowship at Seattle Children's Hospital.
During her pediatric gastroenterology fellowship at Seattle Children's Hospital, Zheng and her team has launched the translational clinical trial PREDICT (Precision Diagnostics in Inflammatory Bowel Disease, Cellular Therapy, and Transplantation) to deeply understand the mechanisms of disease process and, more importantly, the rationale behind using the appropriate therapeutic agent in each case. Her lab is dedicated toward understanding the pathways of disease in blood and target organ invovlement through techniques such as flow cytometry and single cell RNA sequencings (scRNAseq).
Participate in Research
You can help us answer questions about childhood health and illness and help other children in the future. Learn more about clinical trials and research studies at Seattle Children's.