Pursuing Innovative Treatments for Autoimmune Diseases
The Stevens lab is working to understand what causes autoimmune diseases, and is pursuing innovative treatments that could improve the lives of children with scleroderma, lupus and juvenile idiopathic arthritis.
The lab's current research investigates how infection-fighting T cells are regulated, how that process goes awry in patients with autoimmune diseases, and how it can be corrected through potential new treatments.
Dr. Anne Stevens and her team are:
Investigating whether autoimmune diseases are triggered by a mother's cells that transfer to her fetus and remain in the child for years.
Partnering with Kineta Inc., a Seattle-based biotechnology company, to create the Alliance for Children's Therapeutics, which investigates innovative new treatments for lupus and other autoimmune diseases.
Unraveling how a protein called PDL1 may contribute to lupus - and studying whether drugs can halt this process.
Helping doctors choose the right treatment for patients with lupus, via a new test that Stevens helped develop.
Developing innovative approaches to treating systemic scleroderma, and pursuing research to define the first-ever standard guidelines for treating the disease.
Investigating whether gingivitis triggers juvenile idiopathic arthritis (JIA), and studying whether improving oral health can prevent or treat JIA.
Investigator Biography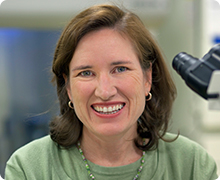 Anne Stevens, MD, PhD, is an associate professor and principal investigator in the Center for Immunity and Immunotherapies, and an attending physician at Seattle Children's Hospital. She attended the Baylor College of Medicine, completed a residency in pediatrics at Children's Hospital Medical Center in Cincinnati and did a fellowship in pediatric rheumatology at the University of Washington. She is board certified in pediatrics and rheumatology.
Participate in Research
Help us answer questions about childhood health and illness, and help other children in the future. Learn more.