Amy De Rocher
Research Scientist IV
Amy DeRocher likes trying to solve puzzles, whether it is the puzzle of how plants respond to changing environments during her graduate work at University of Arizona, or the puzzle of protein targeting to organelles in protozoan parasites. Amy now teases apart the roles of kinases in trypanosomatid cells.
Julie Early, PhD
Scientific Project Manager II
Julie Early is a scientific project manager and her work is focused on the Seattle Structural Genomics Center for Infectious Disease. Before starting in this role, Julie worked on tuberculosis drug discovery, where she led projects that involved academic, non-profit, and industry partners. She has a PhD in molecular and cellular biology and several years of hands-on experience studying bacterial infectious diseases. Outside of work, Julie enjoys the great outdoors: camping, hiking, walking in parks, and biking. She also makes a new (to her) recipe roughly once a week, and is always open to new recipe suggestions.
Bryan Jensen, PhD
Research Scientist IV

Dr. Bryan Jensen has always been fascinated by trying to understand how things work by tearing them apart and then trying to put them back together, whether as a child tearing apart dad's lawnmower, much to his dismay, or today tearing apart cells. His current fascination is tearing apart the regulatory networks within the African trypanosome that allows it to grow in different environments, from the tsetse fly to mammals. He is also interested in how the parasite responds to the mounting pressure of the host's immune response.
Monique Khim
Research Tech I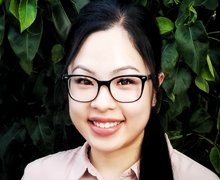 Monique Khim graduated Central Washington University and received her BS in Biology: Biomedical Science Specialization, BS in Chemistry: Biochemistry Specialization with an American Chemical Society (ACS) accreditation, and Interdisciplinary Honors Minor from the William O. Douglas Honors College (DHC). Her passion for infectious diseases stemmed from her undergraduate research in the Beng Lab, where she focused on the modular synthesis and functionalization of chiral pyrrolidinols and azapolytriquinanes in order to identify N-bearing bioactive compounds to treat Leishmaniasis. Now in the Myler Lab at Seattle Children's, she is excited to continue her journey through infectious disease research. Outside the lab, you can find her playing the piano, cooking up something spicy in the kitchen, or surrounded by a myriad of art supplies.
Mohammad Mian
Student Helper
Jackie McDonald
Research Technician II
Vanessa (Ying Po) Peng
Student Helper
Vanessa Peng is currently an undergraduate student at the University of Washington, majoring in medical anthropology and global health. She is interested in virology and working with infectious diseases, particularly influenza strains and HIV. She hopes to contribute to the Myler Lab in a productive and engaging way, and is excited to work with the team in uncovering ways to solve cures. After her undergraduate studies, she hopes to obtain a master of public health (MPH) and continue her work in laboratory research.
Isabelle Phan, PhD
Senior Research Scientist
Dr. Isabelle Phan started off as an organic chemist, synthesizing artificial nucleotides in the Eschenmoser and Benner Labs at the Swiss Federal Institute of Technology in Zürich, Switzerland (ETHZ). She earned her DPhil (PhD) from the University of Oxford studying the structure of modular proteins by NMR and molecular modelling with Iain Campbell, before switching to bioinformatics and joining the Protein Sequence Database (UniProt) team, first at the European Bioinformatics Institute in Hinxton and then at the Swiss Institute of Bioinformatics in Geneva. The move to Seattle allowed her to return to structural biology as a bioinformatician. She leads several collaborative projects within the SSGCID, with a focus on studying complex systems using integrative modelling.
Allison Pires
Research Technician I
Bart Staker, PhD
Senior Research Scientist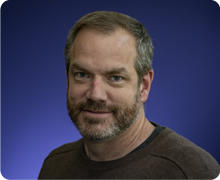 Dr. Bart Staker is currently co-PI and outreach manager for the Seattle Structural Genomics Center for Infectious Disease and senior research scientist at Seattle Children's Research Institute. He is an X-ray crystallographer and protein biochemist, with a PhD in biological chemistry from the University of Michigan and a BS in biology from the University of Washington. Staker has 15 years' industry experience in preclinical drug discovery. He is a founder of two biotech companies that achieved successful venture funding and buy-out. He teaches classes in biotechnology project management and selection and evaluation of biotechnology projects at the University of Washington and University of Maryland. His research interests include structure-based drug design of new compounds for the treatment of cryptosporidiosis and cutaneous leishmaniasis, as well as the study of antibody binding interactions to immunogenic proteins.
Shawna Stonum
Administrative Assistant Sr, Research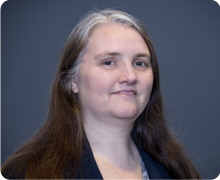 Shawna Stonum began supporting the Myler Lab at 307 Westlake in December 2017. She has supported staff in both the non-profit and for-profit sectors in a variety of industries, including social services, healthcare, finance and now life sciences. Her favorite groups of people are those who use their skills to benefit the greater good. She derives great satisfaction in being an integral part of the puzzle that works to potentially save lives and improve the quality of living those lives.
Sandhya Subramanian
Bioinformatics Research Associate III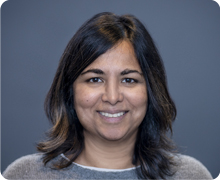 Sandhya Subramanian is interested in learning what protein structures from different pathogens can contribute to understanding their biology, and she currently works in the bioinformatics group on target selection and data analysis for the SSGCID. After undergraduate studies in molecular and cell biology and math at the University of California, Berkeley, she landed in Wisconsin working on the E. coli genome project and from there moved into Drosophila and human genome research at Lawrence Berkeley National Labs. While doing mainly benchwork and working on a master's degree, she also gained some experience on the informatics side of large-scale research and moved to Seattle to work in Maynard Olson's group on completing the human genome and working on haplotype analyses of varied human populations.
Aakash Sur
Graduate Student
Aakash is a PhD candidate in the Biomedical and Health Informatics Program at the University of Washington. His work is focused on leveraging big data and machine learning to produce high quality genome assemblies for parasite species. After graduating with a BS in Biochemistry and a BA in Humanities from the University of Texas at Austin, he went on to develop his bioinformatics and computer science skills in graduate school. Outside of the lab, you might find him chatting game theory to the dismay of his friends, bouldering, or attempting some new experiment in the kitchen.
Rachael Zigweid, BS
Research Technician II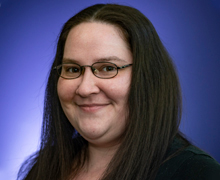 Rachael received her Bachelor of Science degree in Cellular, Molecular, and Developmental Biology from the University of Washington in 2008, followed by a Certificate of Completion as a Biotechnology Lab Specialist from Shoreline Community College, during which time she began work as a student intern in the Myler Lab's Protein Production Core. Her academic and professional interests include development, epigenetics, immunology, and infectious disease. Outside of work she enjoys concerts, long walks around Seattle, and spending time with friends and family.