Elizabeth Glennon, PhD
Fellow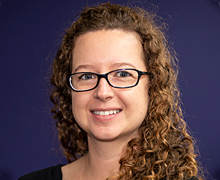 Dr. Elizabeth Glennon is a postdoctoral scientist in the Kaushansky Lab. She obtained her PhD from the University of California, Davis, working in Shirley Luckhart's lab on the mosquito and mammalian host response to Plasmodium infection. Her current project focuses on comparing how different pathogens, including Plasmodium and Toxoplasma, manipulate the host environment to enhance their own development. Outside of the lab, she likes to travel, read and watch ice hockey.
Rossana de la Noval, MA
Grants and contracts administrator
Rossana de la Noval received her MA in anthropology from the University of Illinois at Urbana–Champaign and worked as an archaeologist before shifting to administrative and project coordination roles in the design and science fields over the past 10 years. She has been with CGIDR since 2013 and began supporting the Kaushansky Lab in 2015. Outside of the office, she enjoys volunteering, yoga and hiking, and is an avid soccer fan.
Tess Seltzer
Student helper
Alli Probst
Student helper
Alli Probst is a senior at the University of Washington studying microbiology and global health. Her work at CGIDR focuses on host–parasite interactions in liver-stage malaria. Outside of the lab, she enjoys rock climbing, skiing and hiking.
Kamal Vijayan, PhD
Fellow
Dr. Kamal Vijayan is an Indo–U.S. SERB postdoctoral scientist in the Kaushansky Lab. He earned a PhD in cell biology and immunology in RBN's Lab at Anna University, Chennai, India, on understanding the role of TLR-mediated inflammation in the pathogenesis of human filarial infection. Later, he worked as a postdoctoral scientist at the National Center for Biological Sciences, Bangalore, India, in the Medicines for Malaria Venture (MMV) funded project to develop a drug-screening platform for Plasmodium vivax infections. His current research focuses to identify early events in hepatocytes during Plasmodium liver invasion.
Samantha Whiteside
Research associate
Samantha Whiteside is a research associate in the Kaushansky Lab and manages the ACL-1 insectary. She obtained a Bachelor of Science in animal science/biology and a Master of Science in entomology from Washington State University. She provides supportive work for the lab; and her research focuses on apoptotic pathways and their effects on liver stage malaria. Outside the lab, her time is spent reading, with her dog, and bug hunting.