Natasha Bourgeois
Graduate Student
Elizabeth Glennon, PhD
Fellow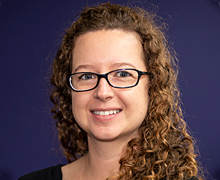 Dr. Elizabeth Glennon is a postdoctoral scientist in the Kaushansky Lab. She obtained her PhD from the University of California, Davis, working in Shirley Luckhart's lab on the mosquito and mammalian host response to Plasmodium infection. Her current project focuses on comparing how different pathogens, including Plasmodium and Toxoplasma, manipulate the host environment to enhance their own development. Outside of the lab, she likes to travel, read and watch ice hockey.
Rossana de la Noval, MA
Grants and contracts administrator
Rossana de la Noval received her MA in anthropology from the University of Illinois at Urbana–Champaign and worked as an archaeologist before shifting to administrative and project coordination roles in the design and science fields over the past 10 years. She has been with CGIDR since 2013 and began supporting the Kaushansky Lab in 2015. Outside of the office, she enjoys volunteering, yoga and hiking, and is an avid soccer fan.
Zephyr Pitre
Student Helper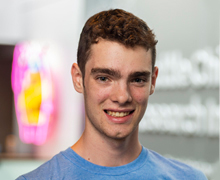 Zephyr Pitre is an undergraduate studying physics and chemistry at the University of Washington, with a strong interest in engineering. He is developing automated robotic systems to optimize lab processes in order to accelerate malaria research. Zephyr loves tea, building stuff, and spending time outdoors skiing and biking.
Veronica Primavera
Research Associate I
Tess Seltzer
Research Scientist I - EX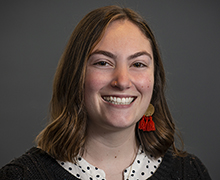 Tess Seltzer graduated from the University of Washington with a degree in Medical Anthropology and Global Health. She is interested in the intersection between biology and engineering and is working to automate lab processes in order to accelerate and optimize malaria research. Outside of the lab, she enjoys painting, making earrings, listening to podcasts, and learning the banjo.
Sruthi Sravanam
Graduate Student
Kamal Vijayan, PhD
Fellow
Dr. Kamal Vijayan is an Indo–U.S. SERB postdoctoral scientist in the Kaushansky Lab. He earned a PhD in cell biology and immunology in RBN's Lab at Anna University, Chennai, India, on understanding the role of TLR-mediated inflammation in the pathogenesis of human filarial infection. Later, he worked as a postdoctoral scientist at the National Center for Biological Sciences, Bangalore, India, in the Medicines for Malaria Venture (MMV) funded project to develop a drug-screening platform for Plasmodium vivax infections. His current research focuses to identify early events in hepatocytes during Plasmodium liver invasion.
Ling Wei, PhD
Fellow