---
The Rose lab's research focuses on the Kaposi's sarcoma-associated herpesvirus/human herpesvirus 8 (KSHV/HHV8) and its transmission and pathogenic role in AIDS-related malignancies.
KSHV is the causative agent for Kaposi's sarcoma (KS) and two lymphoproliferative disorders: Multi-centric Castleman's disease and primary effusion lymphoma. KS is the world's most common AIDS-associated malignancy and has become a public health problem of enormous proportions in many parts of Africa.
Although KSHV infections are primarily found in HIV-infected individuals in the United States and Europe, the virus is endemic in Sub-Saharan Africa, with extremely high infection rates in children, adolescents and adults. Compounded with the high rate of HIV and AIDS in this geographical area, pediatric and adult KS are some of the most common malignancies, with the highest fatality rate. There is great need for increased understanding of the biology of KSHV, including its transmission, dissemination and associated pathology, in order to develop novel prevention and treatment strategies.
Our current research projects include the identification and characterization of cellular receptors mediating KSHV infection; cell-cell transmission of KSHV infections; the comparative analysis of KSHV and its simian homologs and their role in tumor induction associated with HIV-induced immunosuppression; the characterization of latency and the activating switch to herpesvirus replication; and the development of diagnostic tests for known and emerging viruses of global health importance.
Investigator Biography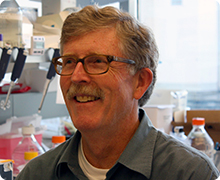 Timothy Rose, PhD, is a professor of pediatrics and pediatric infectious diseases at the University of Washington; and a UW adjunct professor in the departments of epidemiology, microbiology and oral health sciences.
He received a PhD in molecular biology from the University of Geneva, Switzerland, and BA degrees in biology and chemistry from the University of California, San Diego. Rose completed post-doctoral training in tumor immunology at Fred Hutchinson Cancer Research Center. He was employed in the biotech industry, first at Oncogen/Bristol-Myers Squibb Research Institute and then at Pathogenesis Corp., before developing his academic research career at the University of Washington.
Publications
You can view a complete list of Rose's publications on PubMed.