Research Areas and Labs
Rheumatology Research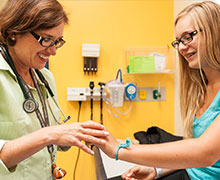 The Rheumatology Research team at Seattle Children's is committed to improving the lives of children through innovative, patient-focused research.
Rheumatic diseases, such as arthritis, lupus and scleroderma, are rare among children. As a result, there is little medical information about how best to treat these diseases in children.
Our mission is to find better ways to diagnosis, treat and manage these conditions through research.
Our research has already led to big discoveries:
We discovered a treatment strategy for childhood arthritis that can prevent joint damage. Learn more.
We created new tests to monitor children with lupus that allows us to adjust their medications to keep the inflammation under control with fewer side effects.
We pioneered the use of CAT scans to detect lung disease in children with scleroderma before symptoms occur. This allows us to treat lung disease, caused by scleroderma, before the damage is done.
Help us answer questions about childhood health and illness, and help other children in the future. Learn more.
Current Research Studies
We offer patients and their families to participate in research studies. Learn more about some of our current research efforts:
Juvenile idiopathic arthritis
Observational Study for Pediatric Rheumatic Diseases: The CARRA Registry
Our researchers are participating in a nationwide network to learn more about juvenile idiopathic arthritis (JIA). The CARRA Registry is part of a network that provides disease and treatment information about children with rheumatic diseases. This information is used by researchers to learn more about these diseases so they can help children in the future.
If you choose to take part in the CARRA registry, we would review your child's medical chart to collect information about their specific condition, including medications, results of physical exams, and long-term health outcomes. You would also be given a brief questionnaire to fill out.
For more information, email the research coordinator.
Start Time Optimization of Biologics in Polyarticular JIA (STOP-JIA) Registry
We want to help answer a critical question for patients, their families and healthcare providers: When is the best time to begin biologic medications to achieve the best possible outcomes? To help answer this, researchers will compare three ways we currently treat polyarticular juvenile idiopathic arthritis (poly-JIA).
FiRst Line Options for Systemic JIA Treatment (FROST)
We want to compare the clinical effectiveness and impact on patient-reported outcomes of four different treatment strategies (biologic vs. non-biologic consensus treatment plans) in new-onset systemic juvenile idiopathic arthritis (JIA) patients. This information will help new patients with systemic JIA and their doctors decide which medications to use.
Diseases affecting the immune system
Our researchers want to learn more about what causes diseases that affect the immune system. By collecting samples from patients and family members, we can study the immune system and use the samples for future research. For this research study, we need volunteer that have been diagnosed with a disease of the immune system. Learn more about taking part in this study (PDF).
We also need volunteers that do not have asthma, diabetes, arthritis or other diseases of the immune system. Learn more (PDF).
Juvenile dermatomysositis
We are currently enrolling children with juvenile dermatomysositis (JDM) who are less than 14 years old and haven't received treatment. We are also enrolling children who have been off immunosuppression for 3 months or more and are flaring. This study is to help improve our understanding of immune-mediated diseases.
Please call 206-987-2057 or send us an email for more information.
Osteomyelitis
We are studying a new tool to monitor chronic nonbacterial osteomyelitis.
Assessing the Feasibility of Thermal Imaging to Detect Active Lesions in Chronic Nonbacterial Osteomyelitis and Juvenile Idiopathic Arthritis
We want to see if thermal imaging, as well as ultrasound and MRI, can identify active arthritis and chronic nonbacterial osteomyelitis (CNO), also known as chronic recurrent multifocal osteomyelitis (CRMO) in patients.
Vasculitis
ARChiVe is a registry for children with vasculitis which allows researchers to study this group of patients and use the information for future research studies.
Related Research
Trial of Early Aggressive Therapy in Juvenile Idiopathic Arthritis (TREAT in JIA)
Read more about the TREAT study: