Sathyanarayana Lab
Information for Families in the Infant Development and Environment Study (TIDES)
Thank You, TIDES Participants!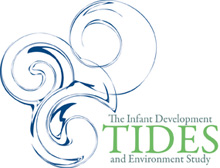 Thanks to the families who participated in the Infant Development and Environment Study (TIDES), we are making important discoveries about how chemicals affect babies.
As you may remember, the goal of the TIDES study is to understand how coming into contact with items in your environment can affect the development of your child and your child's health later in life. Some common chemicals in the environment, called "phthalates," may influence how hormones work in your child's body.
What are phthalates?
Phthalates are a group of chemicals used to soften and improve the flexibility and durability of plastics. They are in hundreds of products, such as vinyl flooring, detergents, plastic clothes (raincoats) and personal-care products (soaps, shampoos, hair sprays, and nail polishes), garden hoses, inflatable toys, medical tubing, and some children's toys.
Our work suggests that prenatal exposure to these common chemicals in our diet and homes may affect the reproductive tract development of boys, but not that of girls. These results were affected by the amount of stress that the mom reported during pregnancy.
We also found that women's attitudes about phthalates and other environmental chemicals vary widely. This can influence their consumer choices and their exposure to these chemicals. Click here to see a current list of published findings.
Because of our study's success and our findings' importance, the National Institutes of Health has funded a second phase of the study, TIDES II. This will allow us to continue following your children and see how early exposures shape development in their childhood years. We hope you will continue to be part of this important research.
We are now conducting our Age 6 study visits.
Participation in Age 6 visits includes:
An online questionnaire to be completed prior to the study visit
A few additional surveys at the study visit
The following measurements on your TIDES child: height and weight and skin-fold on arm and back
Collecting two saliva samples and one urine sample.
A cognitive assessment with you and your child separately.
Measuring your child's blood pressure and their Pulse Wave Velocity (PWV). PWV is a non-invasive measurement that helps us determine how fast the blood gets from your child's heart to their leg.
Participant families (mother and child) will receive a $125 gift card for completing the visit. Parking will be free and we will offer a snack break during the assessment.
Next Steps
If you participated in the TIDES II Age 4 study visit or if you agreed to be contacted for further participation when TIDES I was ending, the TIDES II study coordinator will contact you via email and/or phone to determine your interest in participating in TIDES II. If you agree to participate, we will schedule you and your child for your first clinic visit. The visit can be completed any time before your child turns 8. We very much look forward to being in contact with you again!
Study Visit Location
Mother and child study visits for TIDES II will take place at Seattle Children's Research Institute's West 8th building in downtown Seattle. Parking in the West 8th garage is free for our TIDES participants.
If you have questions, please email our Study Coordinator, Katy Garrison or Research Assistant, Jennifer Powell.
What's Next?
TIDES has received funding to participate in a large national study called ECHO PATHWAYS, which will allow us to follow your child past age 6. If you agreed to participate in the ECHO study at your age 6 visit, you will be contacted in the coming year to complete a survey once your child turns 7.
To learn more about our latest progress, see the TIDES II newsletter: