Garrison Lab
Current Research
The Garrison Lab is currently leading two research studies: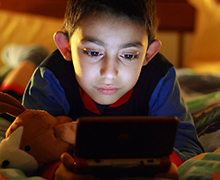 Sleep Health in Preschoolers (SHIP) aims to learn more about the healthy development of children with sleep problems and find ways to help their families. We are looking for 500 families whose preschool-aged children have trouble sleeping to participate in a three-year study. If you take part in the SHIP study, you will receive free education materials and helpful advice. You will also have opportunities during a home visit and follow-up phone calls to talk to one of our study team members and find ways to keep your child healthy and developing well. Learn more at shipstudy.org.
Wireless Assessment Technology Toolkit (WATTS) aims to find ways to use technology to help families learn more about a child's physical activity, sleep and nutrition.
Research is always voluntary. More information and links will be posted once these studies are open and ready to recruit subjects.
Help us answer questions about childhood health and illness, and help other children in the future. Learn more.