Bioethics News
Welcome New Faculty Member Nanibaa' A. Garrison, PhD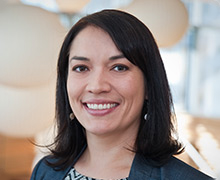 Dr. Nanibaa' A. Garrison joined the Division of Bioethics as an assistant professor in October 2015 and will be active in bioethics research, education and consultation at the Treuman Katz Center for Pediatric Bioethics. Garrison is a member of the Navajo Nation, where she was born and raised and where both her parents still live. Her career has combined genetics with a desire to be involved in studies of health conditions prevalent in American Indian communities, such as type 2 diabetes.
Garrison has a pending 5-year K01 award, "Genomics and Native Communities: Perspective, Ethics and Engagement." She will be interviewing Native American tribal leaders, researchers and policymakers to identify issues and barriers to American Indian participation in genetics research. Garrison will share her findings with the National Congress of American Indians, a board that represents the interests of many tribes. Its Policy Research Center helps set and influence policy at both the federal level and at the tribal level. This project will be in collaboration with mentors Drs. Wylie Burke and Deb Bowen, both at the University of Washington Department of Bioethics and Humanities, and Dr. Ellen Wright Clayton at Vanderbilt, and builds on Garrison's graduate and post-doctoral work, which she completed at Stanford.
Her post-doctoral project centered around the Havasupai Tribe in Arizona, whose members discovered in 2003 that their DNA samples had been used without their approval for studies on schizophrenia, migration and inbreeding. They had consented for the DNA to be collected for genetic studies on type 2 diabetes only. The tribe sued over this secondary use of their samples. A settlement was reached in April 2010 and members of the tribe received monetary compensation and the return of their DNA samples. Garrison and co-researchers examined the impact of the Havasupai Tribe's lawsuit on genetic research. "That research made me recognize the value of community-engaged work," she says, "and sparked my interest in exploring models of informed consent."
During her time at Stanford, she got to know Dr. Holly Tabor, who also trained at Stanford and is now on the bioethics faculty here. "She's been a mentor to me on how to navigate the academic world of bioethics," Garrison says. Another Seattle connection is Dr. Wylie Burke at the UW, who mentored Garrison during her postdoctoral training at Stanford's Center for Biomedical Ethics. This collaboration led to several trips a year to Seattle as they continued their dialog on projects related to community-engaged research in genetics and ethics. A new connection that is being forged at Seattle Children's is one with Dr. Ivor Horn, medical director of Seattle Children's Center for Diversity and Health Equity. Garrison and Horn are discussing opportunities for collaboration and ways to inform each other's work.
"I've known Nanibaa' for almost 10 years, and know that she will be a strong contributor to the research being done at our center and at the Center for Diversity. We envision that she will be a bridge between the two programs, which can allow Children's to extend our relationships with tribal communities. Her deep interest in community perspectives in both healthcare and in research will provide insights into how collaborate with Native communities. She will then be positioned to be able to broaden the scope to focus on other groups in our community. Community engagement is an important dimension for the Bioethics Center, and Nanibaa' will help lead us in learning how to do this better."
Garrison is excited to be back on the West Coast after two years in Nashville at Vanderbilt preceded by a decade at Stanford for graduate and post-graduate studies. She was drawn to Seattle by the prospect of further research collaborations and is excited to get involved with Seattle Children's Clinical Ethics Consultation Service. Referring to the strengths of Seattle Children's and the UW, she says, "I jumped at the opportunity, and it's everything I'd hoped for and more."
Representative Research Papers