Bioethics News
Nursing–Bioethics Liaison Program Kicks Off
Two clinical nurse specialists have been chosen for extensive training in bioethics to enhance integration of bioethics into the front lines of hospital care.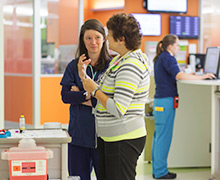 Ethical issues arise frequently in clinical care, and affect all members of the health care team. Starting in 2012, faculty in bioethics, along with nursing leadership, began discussing how bioethics could engage with nurses at Seattle Children's.
Dr. Holly Tabor, bioethics faculty member, and Cathie Rea, director of transplant services for the Department of Surgery, are overseeing a new program at Seattle Children's to provide education to nurses about bioethics. The program, funded by Seattle Children's Hospital Guild Association, is a two-way street: as bioethicists train nurse leadership, the nurse leaders help diversify the composition of the bioethics center.
Clinical nurse specialists Kristi Klee and Leah Kroon have been selected to lead the program. The program supports 40% of their time. As fellows, they are:
Participating in educational activities, seminars and training in clinical ethics consultation at the Treuman Katz Center, and are enrolled in the University of Washington master's program in bioethics and humanities
Training nine unit-based nurses who will become the point people within their unit when ethical issues arise
A key component of the program is the creation of "nurse–bioethics liaisons." Kroon and Klee, with Rea and Tabor, have met with nursing directors throughout the hospital to identify unit-based nurses who will become nurse–bioethics liaisons. The liaisons will be a resource for their colleagues when ethical challenges and issues arise in their work.
"I can't imagine anyone better positioned to develop and lead this program than Leah and Kristi. I'm also impressed at their work in training to do ethics consultations. I can see how their leadership and this program will enhance consideration of ethics throughout the hospital."