Bioethics News
Meet Faculty Member Elliott Weiss, MD, MSME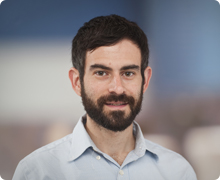 Imagine you are a new parent, and experiencing all the emotions that come with welcoming a baby into the world. Then imagine your baby is born premature, and with serious medical issues. You are exhausted, you are upset – and you have many decisions to make. Under these circumstances, the guidance of healthcare professionals who work in the neonatal intensive care unit (NICU) can be valuable and comforting.
Dr. Elliott Weiss is a neonatologist whose research examines how parents make medical decisions when their infant is in the NICU. He uses qualitative and quantitative methods to gain a deeper understanding of parents' thought processes when faced with emotion-laden, complex medical decisions about their seriously ill infant.
In a project in collaboration with bioethics faculty members Seema Shah and Dr. Benjamin Wilfond that involves neonatologists at several other sites, Weiss is conducting a survey of parents of NICU infants who are eligible to be in a clinical trial. He is trying to learn what influences whether or not parents choose to enroll their infants in clinical trials. His work aims to better characterize the decision-making processes of potential NICU research participants, which can in turn lead to processes that are both more effective at recruitment and better aligned with the needs of this population.
"What's unique and a big advantage of this study" Weiss explains, "is that it examines a hard outcome, while most studies are looking at the reasoning behind a hypothetical choice." In other words, he is looking at real-time decision making, in a real-world setting with actual NICU parents faced with the decision of whether or not to enroll their infant in a randomized controlled trial. He is including both those whose infant was eligible and decided to join a clinical trial and those whose infant was eligible and decided not to enroll. A better understanding of what parents want and need in their decision making about enrolling their newborn in research will help to ensure parents are satisfied with the process, and "make sure we're doing all we can to ethically enroll participants," says Weiss.
Weiss joined the Division of Bioethics as an assistant professor in July 2016 and will be active in bioethics research, education and the clinical ethics consult service. Part of the reason he was recruited to come here was to help the division of neonatology strengthen ethics as an area of excellence. Weiss has created the Neonatology Ethics and Decision-Making interest group that meets twice a month to discuss topics pertinent to clinical and research neonatal ethics. He is also director of the neonatal bioethics track, which promotes bioethics research among neonatology trainees. "Seattle Children's is a unique place. It has an exceptionally strong neonatology program as a quaternary referral center, and the Treuman Katz Center is a one-of-a-kind institute. Being situated in these two powerhouses is ideal for my research and clinical career," says Weiss.
Weiss was previously at the University of Pennsylvania and Children's Hospital of Philadelphia (CHOP), where he completed a fellowship in Advanced Medical Ethics and a fellowship in Neonatal-Perinatal medicine, respectively. He was a member of the institutional review board at University of Pennsylvania and also on the Ethics Committee at CHOP.
We are excited that Elliott joined our faculty, as he made important scholarship contributions as a fellow. Here at the Center, we have some faculty especially interested in research ethics and others who are interested in pediatric decision making and the family experience. Elliot bridges both areas and research questions have emerged from his pragmatic experiences followed by thoughtful conceptual deliberation.
Representative Research Papers
Weiss EM, Joffe S. Promoting informed decision making for comparative effectiveness randomized trials. JAMA Pediatrics. 2015; 169(9): 803–804.
Weiss EM, Barg FK, Cook N, Black E, Joffe S. Parental decision-making preferences in neonatal intensive care. Journal of Pediatrics. 2016 Dec;179:36-41.
Weiss EM, Kohn R, Madden V, Halpern S, Joffe S, Kerlin MP. Procedure-specific consent is the norm in United States intensive care units. Intensive Care Medicine. 2016 Oct;42(10):1637-1638.