Bioethics News
Exploring the Burdens on Families Who Have a Child on Chronic Dialysis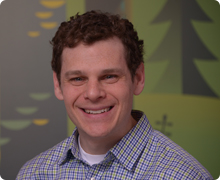 Pediatric nephrologist and bioethics faculty member Dr. Aaron Wightman has been selected for the Clinical Research Scholars Program (CRSP), an intensive 2-year mentored career development program for junior faculty funded by Seattle Children's Center for Clinical and Translational Research.
Wightman's research focuses on how to optimize medical decision making in children with complex, chronic conditions such as end stage kidney disease (ESKD). Children with ESKD have a life-long, incurable condition. Nephrologists and neonatologists sometimes recommend against dialysis, particularly for newborns with ESKD.
When deciding whether to begin chronic dialysis for a newborn, nephrologists consider both the burden of treatment on the child and the impact of dialysis on the family. Chronic dialysis typically entails a prolonged initial hospitalization, followed by either in-center treatment 4 times per week or nightly treatment at home. Chronic dialysis also requires that the child take an average of 8 medicines per day, and be fed a specialized, limited diet.
There is accumulating evidence of improved long-term survival and quality of life among newborns with ESKD if they receive dialysis. Yet little is known about the actual burden of pediatric dialysis on caregivers.
The question of whether family interests should be considered in the medical decision-making process remains unsettled. By extension, if family interests are included in the decision process, there is not consensus on how best to do that.
Wightman's CRSP project will examine the experience of parents of newborns and children who are receiving dialysis. The multicenter, qualitative study will address the knowledge gap regarding the experience of dialysis on parents and examine factors that contribute to how families manage the burdens of dialysis on a day-to-day basis and over time. Wightman plans to create a survey tool to assess burdens to families when a newborn or child undergoes chronic dialysis.
He hopes that the knowledge gained will permit the development of targeted interventions to address identified burdens on families in order to improve the quality of life of dialysis patients and their families. This research project will also help inform medical decision making regarding use of dialysis in newborns with ESKD and the extent to which the impact on the patient's families should be incorporated into the decision-making process.
At completion of the 2-year CRSP project, he plans to have applied for a Greenwall Faculty Scholars bioethics grant to extend his investigations into the role of family interests in medical decision making for children with chronic, complex medical conditions. Bioethics faculty member and pediatrician Doug Opel will provide guidance and feedback as Wightman's research mentor.
"From the time I met Aaron during his pediatric residency, I was impressed with his high level of interest in some of the hardest problems in pediatrics. Now as a nephrologist and bioethicist with a skill set in quantitative, qualitative and normative methods, Aaron is well-positioned to begin tackling them. Already, Aaron has studied the role of immigration status in transplantation and the status of children with intellectual disability as candidates for solid organ transplant. Now he is embarking on a project to quantify family experience and family interests in pediatric chronic disease. These are meaningful issues that impact medical decision-making, quality of care and pediatric policy, and I am excited to have such a thoughtful and dedicated clinician-researcher as Aaron be devoted to addressing them. "
Representative Research Papers