Bioethics News
Dr. Elliott Weiss Awarded Clinical Research Scholars Program Funding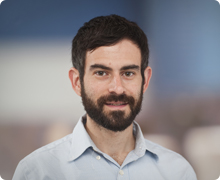 Neonatologist and bioethics faculty member Elliott Weiss, MD, MSME, has been selected as a Clinical Research Scholar for 2017–2019. The Clinical Research Scholars Program (CRSP) is a program funded by the Seattle Children's Center for Clinical and Translational Research to provide protected research time and research mentorship to early career faculty.
Weiss' CRSP project, Parental Attitudes in Neonatal Clinical Trial Enrollment: Decision-Making Preferences and Reasoning Among Participants and Nonparticipants, will learn more about how parents who have been approached for enrollment within a multisite randomized control trial made their decision about whether to enroll their infant in that study. By better characterizing the decision-making process and preferences of parents who were recently asked to enroll their child in a clinical trial, Weiss will learn more about which factors influenced their decision.
"Clinical research is essential to move the field of neonatology forward. Recruiting patients for clinical research in a manner that is respectful, promotes trust and avoids taking unfair advantage of their need for medical care is important. There is significant controversy, however, regarding what constitutes the best approach to recruitment," Dr. Weiss explains.
Infants and other children are considered a special class within medical research, warranting special protections. Furthermore, at the time parents are asked to consent to their sick infant taking part in a research study, parents often are facing complex healthcare decisions in an unfamiliar and highly technological environment.
This work has multiple goals. By better characterizing the decision-making processes of potential NICU research participants, this research may increase ethical acceptability and decrease controversy surrounding this type of research. Learning about what deters potential research participants from enrolling can lead to processes more aligned with the needs of this population, better address their concerns and ultimately improve enrollment.
Weiss will be mentored by bioethics faculty member Seema Shah, JD, a national leader in research ethics.
"In sum, my goal is to understand how parents approach decision making so we can better tailor consent practices to their values and preferences," Weiss says.
Representative Research Papers