Facilities
Building Cure: Research Institute Expansion
The Promise of Building Cure
Together, we seize this once-in-a-lifetime opportunity to build a place where childhood disease can be cured.
Science and Compassion Have a New Address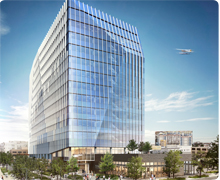 Located at Stewart Street and Terry Avenue in downtown Seattle, Building Cure™ will expand the Seattle Children's Research Institute campus to over one million square feet, helping us accomplish more life-changing research.

When the building opens in 2019, it will be dedicated to developing therapies for children with cancer, type 1 diabetes, sickle cell disease and other conditions.
The impact of this one-of-a-kind research facility will transform the lives of children and their families here and around the world.
Building Cure will include:
Research labs
Cure Factory™ facility
Science Discovery Lab
You Can Change the Future of Pediatric Medicine
Groundbreaking therapies developed at Seattle Children's over the last decade have put us on the cusp of bringing life-changing treatments to more children. We just need Building Cure – and you. Support from our generous community can help make Building Cure's research labs, Cure Factory™ facility and Science Discovery Lab a reality. With your help, we'll have the space and tools we need to create lifesaving treatments for even more kids.
Building Cure Videos
Building Cure Virtual Fly-Through Tour
Take a virtual tour through Seattle Children's Research Institute's Building Cure, scheduled to open in 2019. Building Cure will contain a Good Manufacturing Practice (GMP) facility, a science education classroom, a public forum for the community and more.
Breaking Ground at Building Cure
On February 2, 2017, Seattle Children's Research Institute broke ground on Building Cure, a new research facility expected to open in 2019. During the event, 302 students, community members and staff successfully completed a GUINNESS WORLD RECORDS™ attempt for "Most people conducting a DNA isolation experiment simultaneously."