About the Research Institute
As one of the nation's top five pediatric research centers, Seattle Children's Research Institute is dedicated to providing hope, care and cures to help every child live the healthiest and most fulfilling life possible.
Learn more about the research institute:
A History of Groundbreaking Discoveries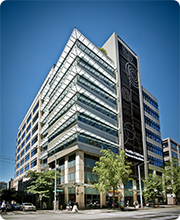 Our investigators are involved in hundreds of projects that cover every phase of research, from studying how diseases work to improving investigational therapies. They have pioneered groundbreaking cystic fibrosis treatments and cutting-edge cancer therapies that help a child's immune system defeat cancer, and made other major contributions to pediatric medicine.
Now, with one million square feet of clinical, laboratory and office space, a workforce of over 1,800 people and over $200 million in total extramural funding for the 2020 fiscal year, we are working toward the next wave of lifesaving discoveries. To accelerate our progress, the research institute is organized into seven centers, each one specializing in areas like cancer immunotherapy, neuroscience and child health and behavior. The centers are supported by the Office of Science-Industry Partnerships and faculty from the Treuman Katz Center for Pediatric Bioethics, the nation's first pediatric bioethics center.
More Room for More Cures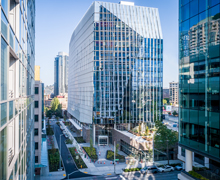 Seattle Children's Research Institute: Building Cure is a 540,000-square-foot research building located in the heart of South Lake Union at Stewart Street and Terry Avenue. The work taking place in Building Cure is dedicated to developing therapies for children with diseases such as cancer, type 1 diabetes and sickle cell anemia. Building Cure features research labs, a Science Discovery Lab for students to take part in authentic scientific research as well as the Cure Factory – a state-of-the-art manufacturing facility that expands our ability to translate laboratory discoveries into cell therapies for patients using immunotherapy and gene therapy. Learn more about Seattle Children's Research Institute: Building Cure.
Collaborating With World-Renowned Partners
Researchers in the centers work in close collaboration with one another, their colleagues at partner institutions including the University of Washington and Fred Hutch and our healthcare providers at Seattle Children's Hospital, one of U.S. News & World Report's top children's hospitals. This collaboration is one of our key strengths, allowing our faculty to draw on a variety of disciplines and techniques as they pursue solutions to some of medicine's most complex problems.
Turning Discoveries Into Lifesaving Therapies
We understand that finding a potential cure in a lab isn't enough. We are dedicated to recruiting and retaining talented researchers – and creating the facilities and programs they need to transform important findings into viable, real-world therapies.
Our key infrastructure includes flow cytometry labs, a 5,000-square-foot pediatric clinical research center and a multimillion-dollar cell processing facility that places us among the few pediatric facilities that meet strict FDA requirements for manufacturing therapies.