Press Releases
Seattle Children's Names Dr. Jeff Sperring New CEO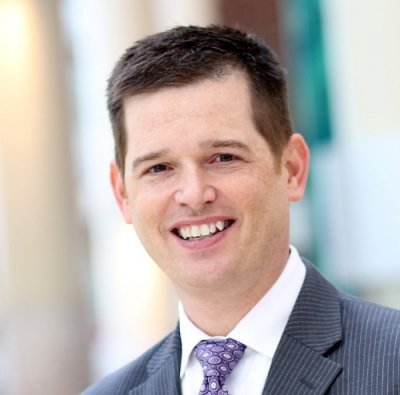 3.5.15
Sperring joins Seattle Children's from Riley Hospital for Children, will assume role early May
Today, Seattle Children's announced that after an extensive nation-wide search, the Board of Trustees named Dr. Jeff Sperring the new chief executive officer, effective early May. Sperring, who currently serves as president and CEO of Riley Hospital for Children at Indiana University Health, will continue to implement Seattle Children's 2012-2016 Strategic Plan, with the goal of carrying out the hospital's mission to prevent, treat and eliminate pediatric disease.
Sperring has worked at Riley, one of the largest and highest acuity children's hospitals in the U.S, since 2002. In his role as CEO, he provided pediatric strategic and policy oversight within the 18-hospital Indiana University Health system and developed the framework to transform Riley from a children's hospital to a statewide children's health system. He also managed the completion of the 750,000 square foot, $500 million Simon Family Tower and implemented LEAN-based process improvement programs, among other accomplishments. Prior to taking the role of president and CEO, he served as Riley's chief medical officer, associate chief medical officer and director of pediatric hospital medicine.
"We are thrilled that Dr. Sperring is assuming the role of CEO," said Judy Holder, Chair, Board of Trustees. "He brings tremendous experience leading a highly ranked, complex healthcare organization, and he exudes a clear passion and dedication to our mission at Seattle Children's. It's also evident that he leads from the heart and will be effective in helping Seattle Children's reach an even higher level of achievement in further improving the health of the communities we serve."
"I am honored to have the opportunity to lead one of the best children's hospitals in the country," said Sperring. "Seattle Children's already has a tremendous track record and I look forward to carrying the torch to help bolster its ability to develop cures for pediatric disease and provide the highest level of care to every child in need."
Sperring obtained his bachelor of science in biology from Emory University, his doctor of medicine from Vanderbilt University School of Medicine, and was a pediatric resident at the Naval Medical Center San Diego. After residency, he served as a United States Navy Medical Corps officer in Twentynine Palms, Calif., for three years.
Sperring will replace current CEO Dr. Thomas N. Hansen, who will retire in May after 10 years of service. During his leadership, Hansen is credited with growing Seattle Children's Research Institute, opening a major outpatient and ambulatory surgery center in Bellevue, and overseeing the completion of the Building Hope expansion at the hospital, among other achievements. Research to help improve outcomes for premature babies with lung disease has always been a passion for Hansen. After stepping down as CEO, Hansen plans to remain an investigator at Seattle Children's Research Institute, focusing on the development of low cost ventilators for premature infants born in low and middle income countries.
Sperring will report to the hospital's Board of Trustees and will oversee Seattle Children's Hospital, Research Institute, Hospital and Research Foundation and Guild Association.
About Seattle Children's
Seattle Children's mission is to provide hope, care and cures to help every child live the healthiest and most fulfilling life possible. Together, Seattle Children's Hospital, Research Institute and Foundation deliver superior patient care, identify new discoveries and treatments through pediatric research, and raise funds to create better futures for patients.
Ranked as one of the top children's hospitals in the country by U.S. News & World Report, Seattle Children's serves as the pediatric and adolescent academic medical center for Washington, Alaska, Montana and Idaho – the largest region of any children's hospital in the country. As one of the nation's top five pediatric research centers, Seattle Children's Research Institute is internationally recognized for its work in neurosciences, immunology, cancer, infectious disease, injury prevention and much more. Seattle Children's Foundation, along with Seattle Children's Guild Association – the largest all volunteer fundraising network for any hospital in the country – works with our generous community to raise funds for lifesaving care and research.
For more information, visit seattlechildrens.org or follow us on Twitter, Facebook, LinkedIn, Instagram or on our On the Pulse blog.