Information Technology Articles
Training Goes the Distance to Provide Virtual Support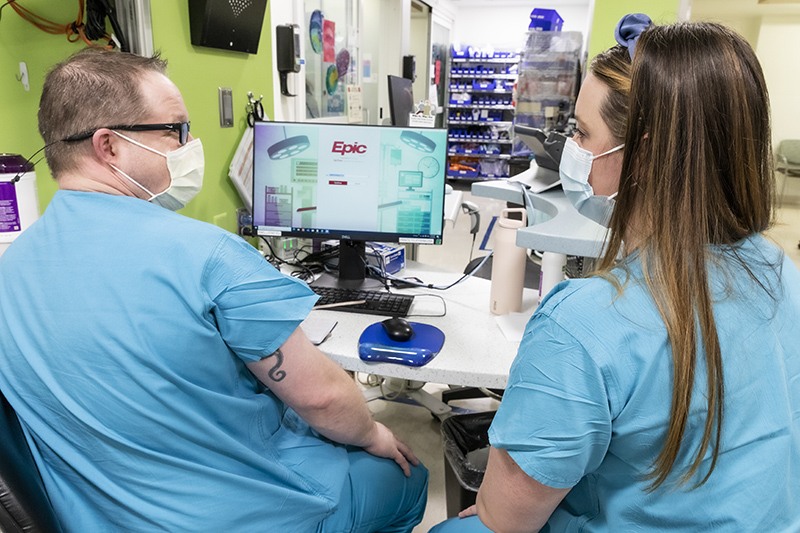 The COVID-19 pandemic forced Jessica Bell, director of Clinical and Business Applications Training, to rethink how her team could train nearly 10,000 Seattle Children's workforce members when they couldn't physically be in the same space.
She and her team rose to the challenge in 2020, making Seattle Children's the first organization in the world to provide 100% virtual Epic training. They offered an additional 841 training classes between October 2020 and October 2021 for 2,486 Epic users at Seattle Children's.
Filling in the gaps
While virtual training can be easier to access than in-person classroom learning, it has sometimes come at the cost of real-time feedback for Jessica's training team. For example, the physical separation has led to some gaps between how they're training and how Epic is being used.
"We haven't been able to do a lot of rounding to see how folks are using the system and to work with them side-by-side other than in emergent situations," says Jessica. "We would like to be more proactive but are challenged by pandemic restrictions and the remote work environment."
Typically, her team would be on-site and could observe firsthand how clinicians are using Epic in order to validate the content in their training materials. Instead, Jessica's team relies heavily on their partnerships with analysts, subject matter experts and leaders who validate the training content.
"We're trying to stay as connected as possible. We appreciate the collaboration with our analysts and operational partners to close any gaps so we can provide the best training and support possible," says Jessica.
Extra support for providers
In August 2021, the training team launched Accelerando — a provider-focused Epic training program — to offer customized support aligned with their workflows. This started with a pilot in Rheumatology.
Providers who opt in to participate complete a self-assessment and are observed while they use Epic. Based on the information collected, Jessica's team creates a personalized training program and spends about two hours with each provider reviewing the material. Jessica's team also focuses on how the providers can work together better as a division. At the end, providers complete a post-training assessment to provide feedback for the training team.
The training team will offer Accelerando for other provider groups in the future. They also plan to return to in-person classroom training for some clinical areas in 2022.