Articles
Seattle Children's Telehealth Program Offers Modern-Day House Call With a Twist
Pilot Program Virtually Connects Providers to Patients in the Comfort of Their Home or School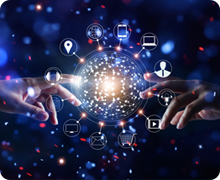 For Hadassah and her mom, Cindy, getting ready and traveling more than two and half hours for a 60-minute appointment at Seattle Children's Autism Center is an all-day affair.
Fortunately for families like Hadassah's, receiving care from this team of specialized providers became a little easier in April 2018 when the telehealth team partnered with providers in the Autism Center's Pediatric Feeding, Biobehavioral and Medication Evaluation and Management programs to bring care virtually to patients.
Thinking Big
When Dr. Mark Lo, Seattle Children's telehealth medical director, joined the Digital Health team two years ago, he was tasked with taking telehealth beyond the clinic walls. At the time, telehealth at Seattle Children's involved providers connecting virtually to patients at other, far-away clinics. It was certainly more convenient for these long-distance families than travelling to Seattle, but they still had to get to their local clinic.
"We needed to think past improving the existing clinic-to-clinic process and contemplate where we could go next," says Lo. "How can we share Seattle Children's expertise and standard of care with kids everywhere?"
With that question in mind, Lo and Sarah Orth, telehealth senior program manager, launched the Telehealth Direct to Consumer Pilot.
The objective? To offer video calls directly to patients, wherever they are.
In April 2018, Seattle Children's launched the pilot program for certain patients seen by providers in the Autism Center's Pediatric Feeding, Biobehavioral and Medication Evaluation and Management programs. The pilot program has since expanded to include eligible patients seen by participating providers in the Pulmonary and Sleep Medicine; Psychiatry and Behavioral Medicine; Neuropsychiatry; and Program to Enhance Attention, Regulation and Learning (PEARL) clinics.
Early Wins
In the Telehealth Direct to Consumer Pilot Program's first nine months, the participating care teams have seen 119 different patients during 295 video visits. This has saved families 48,465 miles of driving to Seattle.
Another big benefit of the program is the increased ability for multiple caregivers to be involved in appointments – something that is often logistically challenging with traditional in-person meetings.
Involving all care providers during treatment for feeding difficulties through Seattle Children's Autism Center's Pediatric Feeding Program, for example, can increase success by sustaining and supporting meaningful change in a child. Everyone is working together as a team and contributing ideas to improve treatment success. This may include parents, school teachers, therapists, dietitians and psychologists.
Unfortunately, aligning multiple schedules can be especially challenging when a patient doesn't live near the hospital or a clinic, like Hadassah, the first patient to participate in the Telehealth Direct to Consumer Pilot Program.
She is impacted by autism and struggles with medical concerns, learning difficulties, challenging behavior and had significant feeding concerns with gastrostomy tube dependence – all of which made mealtime a challenge for her and her family.
Thanks to the Pediatric Feeding Program, Hadassah now eats completely by mouth and only uses her gastrostomy tube for drinking liquids – something that the team will continue to address through the telehealth program.
To maintain Hadassah's success at home, school and with community providers, additional caregiver training was needed.
Before the pilot program, the training and partnership between the school, community therapists and Seattle Children's providers through the Pediatric Feeding Program was limited to phone calls or trying to arrange in-person visits, which was challenging and not very effective, says Dr. Danielle Dolezal, clinical supervisor of the Pediatric Feeding Program.
"Now, during the video calls, I can model the treatment, offer coaching during the meal, and provide encouragement and education to the team," says Dolezal. "When we support the care providers involved in a child's life directly within their communities, it helps support the success of the treatment plan for the child and family, while also building community partnerships."
Like In-Person, But Better
Dolezal, Dr. Eric Boelter, clinical supervisor of the Biobehavioral Program at the Autism Center, and Dr. Yaniz Padilla Dalmau, clinical psychologist at the Autism Center, all report that delivering care in a patient's natural setting also tends to lead to a more relaxed patient – which can mean a better delivery of treatment.
Cindy has found this to be true for Hadassah's appointments.
"At the center, she's much more agitated by the time we arrive to Seattle, so she might be pulling my hair or pinching me and that makes it hard to focus on what Dr. Dolezal's team is telling me," she says. "At home, she's relaxed so I can better understand and digest what Dr. Dolezal is sharing, and we can develop better treatment for Hadassah."
Yooli Hardy, director of Digital Health Innovation at Seattle Children's, says she is proud of how Seattle Children's Information Technology and Digital Health teams have created a virtual experience for patients and care team members that is seamless and easy to use.
Seattle Children's is currently piloting a program where neonatologists at the hospital campus in Seattle can connect virtually with Seattle Children's neonatologists working at regional sites to better coordinate the care of newborns across the state, says Hardy.
"Technology is opening new doors to patient care and interaction," says Orth. "The opportunities for incorporating technology into healthcare are 'virtually' endless."
The teams also plan to expand the Telehealth Direct to Consumer Pilot Program to other departments and providers later this year.
"It's neat to picture eliminating distance so that our patients don't have to think about parking, traffic, driving over mountain passes, arranging childcare or taking time off work to see us, which are barriers for many people," says Lo. "If we can beam Seattle Children's services in, that would open doors for us and for patients."
Parents like Cindy are grateful for this new channel of care.
"The advantages of these video appointments have been numerous," she says. "I cannot even describe the relief of being able to do some of our appointments from home or our school. It has been life changing!"