Articles
Taking Epic Steps to Transform the Care Experience
Erin Tansey's relationship with Seattle Children's began eight years ago after doctors discovered a problem with her son's kidneys on a routine ultrasound.
When her son, Beau, was born a few months later, he was taken to Seattle Children's Neonatal Intensive Care Unit where a team of doctors eventually diagnosed his condition: autosomal recessive polycystic kidney disease.
Patients with this rare genetic condition develop many fluid-filled cysts in the kidneys that limit how well their kidneys function. The condition can also impact the liver and other organs. Beau's kidneys only functioned at about 50% from birth and, over time, began to fail. In October 2019, he received a new kidney from his mom.
Early on in her son's medical journey, Tansey remembers feeling very isolated as she navigated new waters.
"It's really terrifying not knowing how or if your kiddo is going to come out alright," she says.
She turned to other families at Seattle Children's for support by becoming a family advisor six years ago. In 2018, she joined a new council focusing on IT.
Through her work on the IT council, she participated in several feedback sessions in 2019 to help design Seattle Children's new, integrated electronic health record (EHR) system through Epic, which launched in October 2020.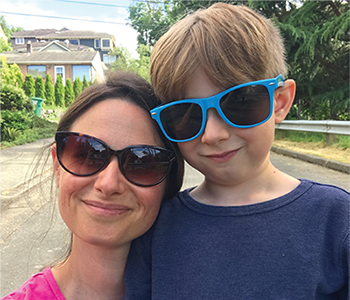 Tansey anticipates big wins with Epic, including easier access to Beau's medication list and a new open notes tool, which will give families the ability to see the majority of their child's clinic notes immediately after the visit through the patient portal.
"We have a lot of things to remember, so being able to go back and read what happened during a clinic visit is going to be huge for parents," says Tansey. "Having that transparency will totally change our care experience."
The Epic project is just that: epic. There are numerous features that are expected to improve the patient family experience, and the quality and safety of the research and care provided at Seattle Children's, by streamlining information sharing and processes.
Here are a few of the expected big wins (in no particular order) identified by Epic project leads Dr. Rod Tarrago, chief medical information officer, and Dan Robinet, director of Clinical Information Systems.
Moving past the status quo: Transitioning to a single EHR platform has led teams across the organization to take a closer look at current processes — the way things have always been done — and ask the right questions to the right people to design a system that better serves patients, families and Seattle Children's workforce members. Teams continue to meet to make further improvements and upgrades to the system.
Documentation and ordering improvements: Epic has many features and mobile tools that will make it easier for providers and clinicians to add their notes and vital signs to a patient's electronic record and order tests, medications and blood products. Here are a couple examples of these efficiencies:

For patients staying at the hospital, an electronic illustration of a child's body shows the location of lines, drains and airways in the EHR for easier documentation.
Ordering formula for patients will be a more stream-lined process — moving from about 60 steps to just one step.
MyChart: Prior to Epic go-live, patient families used one online service to request, schedule and view appointments, and another to access clinical information. With Epic, everything is available to patients in one portal — MyChart — which includes self-service features like bill pay, scheduling, requests for medication refills and pre-registration.
Available initially in English and Spanish, the portal will also give patients and families access to more information about their child's care and condition, including clinic notes, medication lists available in 15 languages, lab results and more. MyChart is currently being used to host telehealth visits.
Care Everywhere: Through Epic's Care Everywhere, Seattle Children's care team members can now exchange and access patient information from compatible outside organizations. Care Everywhere ensures a patient's health information follows them wherever they are — whether they find themselves in an unplanned situation like an emergency visit or a routine visit with their specialty clinic.
More transparent care plans: The new system gives all care team members the ability to see the patient's entire treatment plan — allowing them to better understand the patient's medical journey moving forward. It also allows team members to add to a patient's problem list — a document that details their health problems. The problem list is accessible to families through MyChart and they can continually review it for accuracy.
By ensuring all medical issues are documented on this list, the system can quickly identify specific patient populations for targeted communication or education. For example, the system could quickly search for all patients with cystic fibrosis on their problem list to ensure proper safety precautions such as masks and gowns are ordered to keep them safe during the COVID-19 pandemic.
Personalized patient ID: A patient's preferred name and preferred gender pronoun is now included in their EHR to ensure care team members demonstrate respect for each patient's preferences.
Centralized location for letters and forms: All completed consent forms, notes, letters and school forms are housed in a centralized location within a patient's medical record and are accessible to team members in both the inpatient and ambulatory (clinic) settings. Families can access the forms through MyChart. This is a huge time savings for providers, clinicians and families.
Greater visibility to research: One of the project's guiding principles is to make research available for all patients. Patient profiles will automatically default to "OK to approach about participating in research," giving care teams the opportunity to engage more patients in research studies. (Patients will have the opportunity to change their default setting to "do not contact.") Research teams will be able to run a report indicating which patients may be a match for a research study. Additionally, patients will be able to look at MyChart to see if they can sign up for a clinical trial.
"Engagement in the Epic project has been tremendous," says Robinet. "This is not just an IT project. People from across the organization have stepped in to make this work possible, even during uncertain times with the COVID-19 pandemic. It is truly impressive."
As the leader coordinating the telehealth workgroup, Christine Kessler, vice president of Patient Access and Ambulatory Services, worked with other senior leaders to help remove some of the barriers to make telehealth possible within a short period of time. This included advocating for policy and medical staff bylaw changes to ensure providers could promptly receive the training and credentialing they needed to see patients over the virtual medium.