Articles
Stepping out From Behind the Scenes to Meet Customers' Technology Needs
Technology and medicine go hand-in-hand — an essential partnership that has grown significantly over time at Seattle Children's.
Ensuring that the technology meets the needs of the end user — patients, families and workforce members— requires a deeper understanding of their experiences and expectations when using technology.
Over the last couple of years, the IT teams at Seattle Children's have taken proactive steps to listen and promptly respond to the technology-related concerns of the people they serve. Here's a look at three of those efforts.
Partnering with parents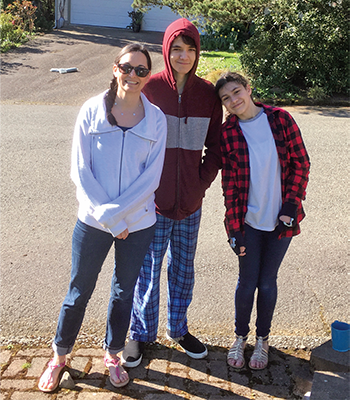 To better understand the patient family experience and their growing dependence on digital tools to manage care, members of the IT team joined forces with nine parents with varying levels of tech savviness in spring 2018 to form an IT family advisory board called Parents Partnering with IT at Seattle Children's (PPITCH).
"Parents have been phenomenal about being engaged, participating in pilot projects, giving us feedback and sharing concerns in real-time about operational issues," says Dan Robinet, director of Clinical Information Systems and one of the founding members of PPITCH. "The team isn't just logging concerns, they want to be part of the solution and that's been really phenomenal. It's making us work harder because we can see they are engaged in this for the right reasons."
Jen Faultner, a parent of two Seattle Children's patients and longtime family advisor, joined PPITCH as one of the group's first members. In that role, she has witnessed countless examples of the value of bringing families and IT teams together.
Recently, she tried to set up accounts for her two teens in MyChart — Seattle Children's patient portal — and felt utterly confused by the registration process. She took step-by-step notes and shared them with her IT contacts who quickly mobilized to find solutions. Thanks to her feedback, the MyChart registration process is now much easier to follow for patients and families. Without making contacts through PPITCH, she says she wouldn't have known where to turn to provide that type of feedback.
"Some of my most rewarding work doing family advising has happened in the IT realm because of their mentality about change and how actionable they are based on our feedback," says Faultner.
Dr. Rod Tarrago, chief medical information officer and a founding member of PPITCH, has been so amazed by the success of the group that he hopes to eventually start a similar IT advisory board involving Seattle Children's patients.
Net Promoter Score
At more than 10,000 strong, Seattle Children's workforce members depend on technology every day to do their jobs.
In January 2018, Seattle Children's launched a simple, yet powerful, new tool in IT — the Net Promoter Score (NPS) survey — to better measure staff and faculty members' satisfaction with IT.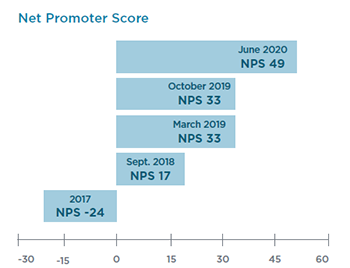 Twice a year, a multidisciplinary group of about 1,000 workforce members who are part of the Employee Opinion Panel are asked to take the NPS survey. Additionally, a transactional NPS survey is sent to anyone who contacts the IT Service Desk after their issues have been resolved. Survey respondents are asked two questions: the first asks them to rate their satisfaction with IT and the second is an open-ended question that asks why they gave that score.
Results of the NPS surveys help to generate an overall score that illustrates how likely someone is to promote IT services. NPS surveys are commonly used in retail companies.
Since launching the biannual NPS surveys, the team has seen significant improvements in the scores each time the survey is administered. After receiving the survey responses, IT team members Carissa Harrison, business systems analyst; Josh Murfield, supervisor of the IT Service Desk; Deb Norris, system architect; and Mike Ornellas, manager of IT Core Operations, review the results, read every submission to the open-ended question, categorize their findings and identify areas where IT can improve.
They believe that asking the questions and reviewing all of the feedback has led to a more responsive IT Department.
Early on in the survey process, for example, there were many complaints about outdated software that the IT team was already working to address but had not shared across the organization. After that "aha moment," they made a concerted effort to keep everyone more informed about current and upcoming IT projects.
Other big complaints early on showed how dissatisfied people were with frequent system outages. Since then, IT has made big strides to limit outages and provide a more stable IT system.
Murfield has been amazed by the IT Department's willingness to listen and make changes since launching the NPS survey tool more than two years ago. He looks forward to raising the bar even further.
"We are all part of Seattle Children's mission and our part in IT is to make it easy for everyone else to do their jobs," says Murfield. "We are not doing this just to check a box or meet a certain goal. We really want to take care of our people."
FutureFlow Rx
One way the Enterprise Analytics community makes it easier for staff and faculty members to do their jobs is through FutureFlow Rx. Seattle Children's was the first pediatric hospital in the country to use the technology, which was introduced in fall 2018.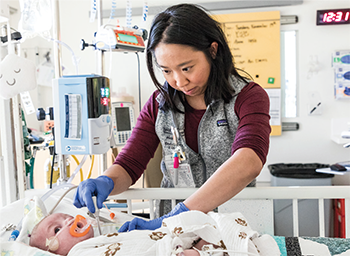 FutureFlow Rx is an innovative analytics tool from ProModel Corporation that uses historical data combined with machine learning and discrete event simulation to predict hospital census over several days based on certain patterns in the patient population. The real-time data generated through the tool is used to create dashboards that are updated every hour.
The technology can also simulate different scenarios to answer a lot of the "what ifs." Would Seattle Children's have the capacity to treat all patients who need care on a given day or time if leaders open up an additional unit? Would there be capacity to care for more post-surgical patients if surgeries were offered on weekends?
Before the COVID-19 pandemic, the organization saved $5.6 million in just four months by using FutureFlow Rx to improve efficiencies and eliminate cancelled surgeries. Although this progress was halted due to the pandemic, leaders involved in the project, including Eugene Day, data science manager; Dr. Ruth McDonald, vice president and interim chief medical officer, hospital operations; Andrew Mullenix, director of Patient Flow and Nursing Resources; and Ryan Sousa, chief data officer, look forward to seeing the full impact of the tool post-COVID-19.
"This tool gives operational leaders the ability to make educated decisions about which kids can be admitted to the hospital and which kids may be safely served at other local hospitals if we reach maximum capacity," says Day. "Better understanding what's going on in our facility ensures we have the capacity to care for the most vulnerable patients in our region who need us most.