Articles
Seattle Children's Among First Pediatric Organizations to Receive Top Recognition for Analytics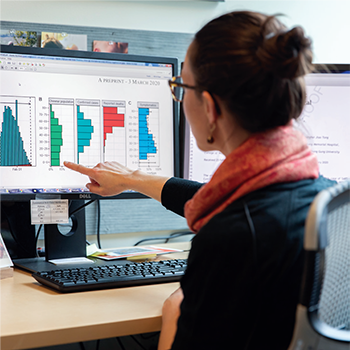 Congratulations to Seattle Children's Enterprise Analytics community for achieving one of the nation's top recognitions for its use of analytics — the computational analysis of data or statistics — to improve patient care and increase patient and family satisfaction.
In November 2019, Seattle Children's was only the fifth healthcare organization across the country to receive Healthcare Information and Management Systems Society's Stage 7 designation based on the Analytics Maturity Adoption Model assessment — an industry-recognized evaluation used to measure a healthcare organization's analytics maturity. Stage 7 is the most advanced level.
Fewer than 3% of the organizations that completed the assessment at that time achieved Stage 7 designation. This achievement requires organizations to demonstrate the ability to integrate historical, real-time and predictive data into clinical processes to improve patient outcomes and patient satisfaction.
Organizations must also demonstrate how analytics is deeply integrated across the entire organization, including the use of data to make operational and financial decisions.
Seattle Children's uses analytic tools to capture and better understand data that is then used to make improvements in patient care, help grow and accelerate research, improve productivity, promote recruitment and retention, increase employee satisfaction, reduce clinical and operational costs, and, in some cases, save lives.