Articles
iPads for Kids Program Gives Patients a Dose of Distraction During Hospital Stays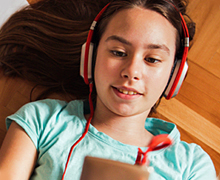 A hospital stay can be a stressful time for patients and their families, which is something Dawn English knows all too well.
For more than 45 years, English has been a foster mother to children with complex medical needs – many of them requiring frequent trips to the hospital. She is currently the guardian to Kevin, a 17-year-old boy who recently stayed at Seattle Children's. During his hospital stay, they discovered the iPads for Kids Program, which is helping ease some of that stress for patients and caregivers.
The Bungie Foundation's iPads for Kids Program at Seattle Children's offers patients access to pre-curated, age-appropriate content on an iPad. This includes games, entertainment apps and streaming content apps like YouTube and Netflix that families can view using their personal logins.
"Distraction is an effective technique to provide comfort and reduce pain and anxiety in kids," says Yooli Hardy, director of Digital Health Innovation at Seattle Children's.
About the Program
Since 2013, Seattle Children's has partnered with local video game developer, Bungie, to provide the iPads to children staying at Seattle Children's hospital campus in Seattle. At that time, there were several devices available to be checked out by patients staying in the hospital's inpatient units.
The Bungie Foundation manages all iPads in the program and provides customer support and troubleshooting for patients, families and hospital staff members. They also utilize the Jamf mobile device management technology to remotely wipe and reset iPads back to factory settings every time a patient leaves the hospital for added security.
Over the last year, the Bungie Foundation has expanded the iPads for Kids Program. By the end of February 2019, the organization will have donated more than 400 iPads to Seattle Children's inpatient units. This includes the intensive care, medical/surgical, rehabilitation, cancer care, and psychiatry and behavioral medicine inpatient units. The tablets are installed by the hospital's Digital Health and Information Technology (IT) teams.
The Bungie Foundation has also provided iPads for Seattle Children's Child Life specialists and for patient use in Seattle Children's Autism Center. They have a goal of providing iPads to every appropriate inpatient and ambulatory care unit at Seattle Children's.
Expanding Our Reach, Easing More Worries
One of the big benefits of the program is offering personalized education on the iPads so families can learn more about their child's condition and watch educational videos prescribed by their care team.
"When facing a new diagnosis, we find that families and caregivers want to access educational content on their own time while their children are resting or watching TV," says Hardy. "Having the iPads available makes this possible."
During Kevin's recent stay at Seattle Children's, having access to an iPad allowed him to view information about medical procedures, much like he does at home.
"Kevin is a pretty calm kid, but it can be distracting when he's worried about something," says English. "Having the iPad makes him feel more comfortable and relaxed."
As a caregiver, she says it is also beneficial having access to an iPad so she can check her email or look up information without having to leave the room.
Based on the continued commitment of the Bungie Foundation, Seattle Children's Digital Health and IT teams plan to install additional iPads in other areas of the hospital over the coming months.
"The iPads for Kids Program is one example of how partnering with outside organizations can lead to innovations that are improving the patient and family experience," says Hardy. "This is just the beginning in terms of what we can do with these devices. We are looking forward to introducing additional therapeutic and educational apps in the future that will help our patients live the healthiest lives possible."
To learn more about the iPads for Kids Program or to learn about opportunities to pilot therapeutic and educational apps on the devices, contact Yooli Hardy.