Articles
If You Build It (Virtually), They Will Come: A Look at Our Telehealth Expansion
A trip to Seattle Children's for frequent appointments is not a simple task for Burke Stansbury and his 11-year-old son, Lucas Hanson.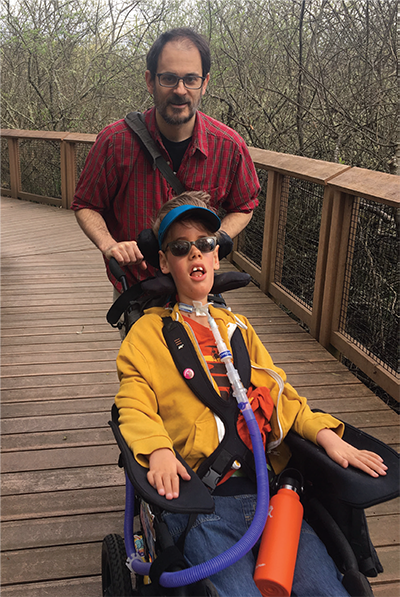 Lucas was born with myotubular myopathy, a neuro-muscular condition that resulted in the underdevelopment of his muscles. He uses a wheelchair and depends on a ventilator and tracheostomy tube to breathe and a feeding tube to eat.
"Because he's such a complex kid in terms of his medical equipment, it's definitely an ordeal to have to go to Seattle Children's," says Stansbury. "You have to pack up all the gear, load him in the car, drive about 30 minutes, unload and spend the day there if we schedule multiple appointments. He gets tired after a while and it's hard to find a place for him to rest."
Since Lucas has a compromised respiratory system, he and his family have had to be especially careful to not get sick during the COVID-19 pandemic. They were grateful when Seattle Children's introduced a full menu of direct-to-home telehealth services just weeks after the pandemic began.
"The option of doing telehealth really made sense," says Stansbury. "We have such a long history of trust with the pulmonary team that we felt good about having a telehealth appointment with them and, sure enough, it went really well."
Stansbury and his family were not the only ones to embrace this virtual solution to seeking non-urgent care. Over the last few months, Seattle Children's rapidly expanded telehealth services, growing from fewer than 250 telehealth visits in February 2020 to a high of more than 13,000 in May 2020.
What did it take to go virtual? Here's a behind-the-scenes look at the fast-moving process.
One, two, three… go
As COVID-19 cases spread across Washington state and around the nation, Seattle Children's leaders began rapidly planning how to care for COVID-19 patients while also meeting the needs of all other patients.
Early on in the pandemic, thousands of non-urgent clinic appointments were cancelled either by families or by Seattle Children's operational leaders due to safety concerns. As part of COVID-19 response planning, a multidisciplinary group of leaders across the organization began a workgroup to investigate ways to deliver ambulatory care to patients during an era of travel restrictions and stay-at-home orders.
What resulted was nothing short of monumental.
Everyone involved with the telehealth project knew their role and went to work — many of the team members working 16-hour days to make a few years' worth of work possible in just a few weeks.
The first step was to switch many in-person visits to telephone visits, which happened within a week in March.
Providers in all clinics reviewed their patient lists and their upcoming appointments to determine which patients needed to be seen in person, which could wait a while for an in-person appointment and which patients could receive care with a phone or video visit.
As the leader coordinating the telehealth workgroup, Christine Kessler, vice president of Patient Access and Ambulatory Services, worked with other senior leaders to help remove some of the barriers to make telehealth possible within a short period of time. This included advocating for policy and medical staff bylaw changes to ensure providers could promptly receive the training and credentialing they needed to see patients over the virtual medium.
Christina Bell, director of Digital Patient Access, Care and Engagement, served as the operational leader working with other team members across the organization to ensure a smooth telehealth rollout complete with successful scheduling and registration processes, a trained group of staff and faculty members, and ample communications to patients, families and the care team.
Meanwhile, Chris Kunimura, IT program manager for Digital Health Innovation, along with systems analysts Ann Maruhashi and Keela Tiernan, were all-hands-on-deck, handling the technical side of the telehealth deployment. They also helped providers navigate the new process.
"We worked nonstop and barely slept for a month, but our team did it without complaining because we knew patients, families and clinicians needed these services," says Kunimura. "It was really rewarding to see how an IT service has a true impact on patient care."
By April 2020, all ambulatory clinics across the system adopted telehealth and were seeing patients through at-home videoconferencing. Previously, only three clinics were using the virtual service.
But the work didn't stop there.
Added features
On June 15, 2020, Seattle Children's began offering patients access to their virtual visits through their MyChart patient portal.
Moving telehealth to the MyChart platform required additional behind-the-scenes work, but led to some big early wins, including increased security for the virtual visits and a more efficient experience for patients, families and providers.
"At the start, there were many barriers to providing telehealth to patients at home, but this amazing team overcame the barriers and made it happen," says Kessler. "The work accomplished in a matter of weeks — from the initial Zoom implementation to the integration with MyChart — was really impressive. It has provided an invaluable option for our patients, families and providers."
Technology that's here to stay
Telehealth has given kids, like Lucas, the ability to stay home and stay safe throughout the COVID-19 pandemic. The technology isn't going anywhere.
"Moving forward, this is really just the tip of the iceberg as it relates to telehealth," says Bell. "We've opened these doors, provided the opportunity and offered a value add to the organization, but there's so much more we can do."
Family Satisfaction With Telehealth

In Fiscal Year 2020, 88% of families surveyed who used telehealth services rated their experience as either a 9 or 10 (out of 10).
One big piece of the puzzle is ensuring that access to telehealth services is equitable across all patients and families Seattle Children's serves. Although telehealth can save time traveling and minimize time away from work, it assumes the patient has a private space with access to the internet to connect in for a virtual visit. It also assumes that patients and families understand how to use the technology.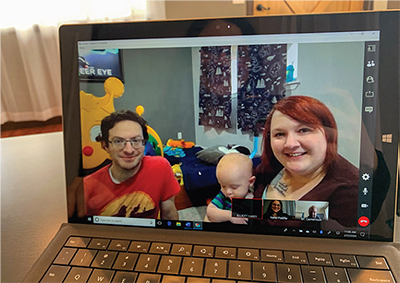 To address telehealth equity, Seattle Children's has made improvements to telehealth educational materials and consent forms in multiple languages and started a program to offer families a way to participate in virtual visits on a Seattle Children's tablet device if visiting one of the facilities for tests or another appointment.
Seattle Children's also began a program in December 2020 to loan out tablet devices to families for telehealth appointments.
Dr. Mark Lo has been on the telehealth journey with Seattle Children's for the last four years as the program's medical director. He's been amazed by the dedication of the teams that made the rapid telehealth expansion possible and is excited for what's to come.
"The pandemic has really shifted a lot of thinking about healthcare," says Lo. "I recognize that telehealth isn't always the best option for complex patients who need hands-on care, but I'm hopeful it will be a big part of how we deliver care to many of our patients moving forward."