Articles
How One Team Made the 'Impossible' Possible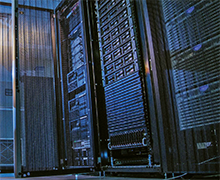 When IT teammates Laura Bettinger and Dawn Owen-Kerins joined forces more than two years ago, they were met with a daunting task: how to migrate all data center operations to an off-site location within six months — a project originally scheduled to take years.
A data center houses Seattle Children's networked computer servers that store all digital information and tasks. When an employee logs on to their computer, they are accessing information on the servers in the data center.
At the time when Bettinger, manager of IT Core Operations, and Owen-Kerins, manager of Network Services, inherited the data center migration project, it was being managed by outside contractors and was significantly over budget and running way behind schedule. The project was brought in-house — saving more than $18.3 million in contracting fees — and the timeline was expedited with a completion goal of December 2018. This was around the same time when many of the servers would no longer be usable.
"I have a background in disaster recovery, so I'm not one to step away from a challenge," says Owen-Kerins.
With the dedication of Bettinger, Owen-Kerins and a core team of 12 engineers from across IT Core Technology and Operations, they got to work. As the infrastructure and applications migrated, they pulled in about 200 people spanning all teams within IT to help.
Not just a pipe dream
In the early days of the project, Bettinger and Owen-Kerins remember working until 10 p.m. to try to come up with their plan to safely make the migration happen to the new facility in Tukwila, a multi-tenant campus with more than one million square feet of data center space.
One night, it finally clicked and their plan was formed.
Over the coming months, Bettinger was hard at work coordinating and scheduling the migrations and ensuring timely communications with all teams involved. They developed an intricate scheduling system that allowed the team managing each application to choose when their application would move to the new servers and ensured they stuck to that schedule.
Meanwhile, Owen-Kerins was busy working with the technical teams doing the migrations. To minimize the risk of the applications experiencing issues or being unavailable during the migration to the new off-site servers, the dedi­cated team worked overnight for several months when fewer Seattle Children's staff and faculty members were at work.
The process went like clockwork and by December 2018 they had migrated 95% of the applications to their new Tukwila home.
"Our leadership team really supported us and gave us all of the resources we needed to reach our 'impossible' goal," says Bettinger. "It was awesome. There was no question that this was the top priority and I feel like the entire IT Department rallied around it."
An inside look at the data center

The data center is a hub for all digital information and tasks that are carried out and stored on data center servers. Servers generate heat as they process information. This requires cool air to be pumped into the room, flow over the servers and out of the building.

The amount of energy required for complex research tasks — such as processing genome information for patients participating in immunotherapy clinical trials — is significant, requiring additional cooling capabilities that weren't available at the old facility.

To ensure the applications and tools used by Seattle Children's workforce members, patients and families won't be impacted by a power outage at the data center, the cooling and airflow systems are supported by 28 back-up generators and 240,000 gallons of fuel storage.