Information Technology Articles
An Epic Response to the Pandemic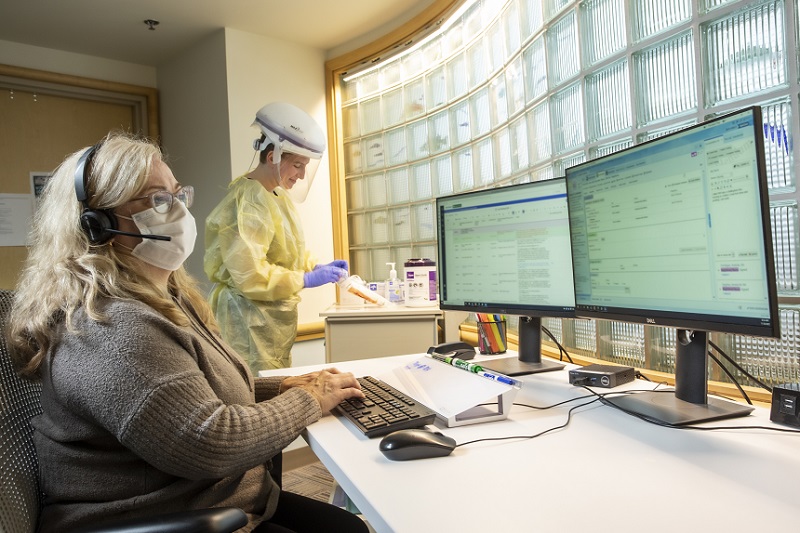 The last three years have been busy for members of Seattle Children's Clinical Applications teams like Emad Osman, IT program manager of Clinical Applications. Emad and his teammates were hard at work preparing for Seattle Children's Epic implementation when the COVID-19 pandemic started.
While the pandemic made launching a new electronic health record more challenging, it also made it easier for Seattle Children's to respond to the evolving needs of patients and families, workforce members and the community.
That's because Epic provides a standard set of tools to support information sharing, reporting and inventory management.
Reducing the spread of COVID-19
Epic's scheduling functionality helped Seattle Children's roll out COVID-19 testing at the hospital and across urgent care sites and drive-through testing clinics in the community.
Its workflows help streamline the process for testing, receiving and sharing test results, and putting care plans in place for patients who test positive.
Within Seattle Children's, Epic helps keep patients, families and workforce members safe. The system prominently displays a patient's COVID-19 test results and vaccination status, so information is easy to see at the point of care. Emad's team also configured Epic to alert clinicians when they need to test patients and their families.
"It's prompted us to not just test at admission, but while they're here," says Emad. "There are these gaps where information can be missed, and Epic is really that safety net."
Caring for the Community
When Seattle Children's received its first COVID-19 vaccines in December 2020, Epic helped enable the organization to stand up a centralized vaccine clinic.
MyChart — the electronic patient portal into Epic — provides a way to communicate with and educate patients and families about the vaccine, including who is eligible and when to schedule appointments.
Epic enables Seattle Children's to connect with a community of other organizations using Epic to share knowledge on COVID-19 workflows, which is critical to support the fast pace of this work. Epic also makes it possible for Seattle Children's to share vaccination information with the Washington State Immunization Registry and more easily track who is and isn't vaccinated.
"That's had a big impact on our ability to support the community, first responders and teachers," says Emad. "We were also able to use this one seamless workflow that Epic created to do the ordering, scheduling and administration, and fire off the second vaccine appointment in one click. This allowed us to have higher throughput and manage a consistent experience not just for the patients but for the volunteers who run our vaccine clinic."