Information Technology Articles
10 Epic Care Transformations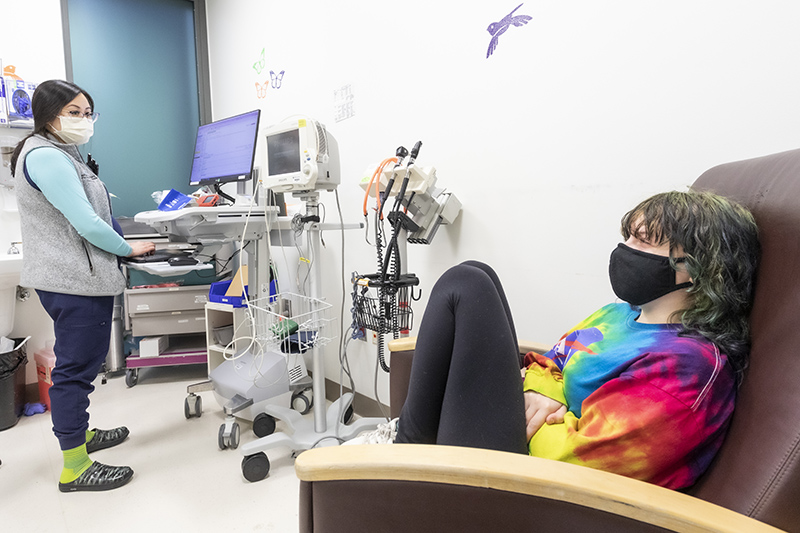 From streamlining information sharing and processes, to offering mobile access and the ability to exchange records with other healthcare organizations, here are 10 ways Epic, Seattle Children's integrated electronic health record (EHR), is helping transform the care experience for patients and their families, clinicians and support teams.
1. More clinical information in a single patient portal
45.4% of patient families have an active MyChart account
350% increase in users from before integrated EHR
85th percentile among Epic organizations
MyChart — the electronic patient portal into Epic — is putting more data in the hands of our patient families to make it easier for them to manage their child's care.
Instead of logging into one portal to manage appointments and bills and another for clinical information, they can find all their information and many new features in one place. In MyChart, families can send communications and images to their child's care team, review clinic notes, request prescription renewals, print medical records and more.
2. Secure messaging for families and care teams
~3 million messages sent since go live
~270,000 messages sent per month
Before our integrated EHR, two-way messaging between families and Seattle Children's care teams was limited to a few specialty groups. Now with MyChart, families can send secure messages to all of their care teams, providing a quicker and easier way to get their questions answered.
Clinicians also have a new secure chat tool, which is centralized around the patient's chart. They can see a patient's assigned care team and directly message them in real time to get information at the point of care.
3. Data exchange with a single click
~250,000 patient records received per month
~370,000 records sent per month
Exchanged with 2,068 hospitals and 42,794 clinics across 364 organizations
With Epic Care Everywhere, clinicians can access their patients' outside records quickly and easily from compatible outside organizations without having to request records.
With the click of a button and within their workflow, they can search through their patient's record to find a history of appointments, clinical notes, lab results, allergies, medications, immunizations and even some X-rays and other imaging. This provides critical context, which can reduce test duplication, save money and improve the speed of care delivery.
4. Mobile tools for clinicians
1,200 physicians using Haiku
1,500 clinicians using Rover
With Epic, Seattle Children's introduced two new mobile applications — Haiku and Rover — to help clinicians perform key workflows in real time, on the go. Haiku allows physicians to review patient results and notes, place orders, respond to In Basket messages, securely chat with colleagues and upload images to a patient's chart. Rover enables nurses, pharmacists, phlebotomists and other clinicians to view documents, capture wound images, chat securely with care teams and manage medication administration.
5. Better collaboration between care teams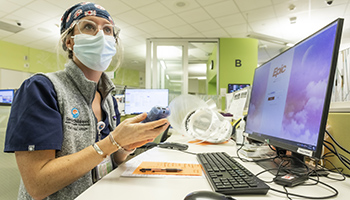 With a single EHR, our care teams can share information and align on care plans more easily. One area where Seattle Children's is seeing the benefits from this collaboration is the patient flow and discharge process, which has been challenged by the COVID-19 pandemic, capacity surges and staffing constraints.
In place of spreadsheets and other isolated documentation, care teams can document and communicate discharge plans — including milestones, the expected discharge date and barriers — in Epic to ensure the right teams have the right information at the right time.
6. Modernized workflows
For groups like Oncology, Epic enabled a major upgrade — paper to electronic charting. Before, chemotherapy was prescribed on paper using hand calculations for doses, and then transcribed by a pharmacist into the EHR. Now, the chemotherapy plan, orders and roadmap are available to providers anywhere, anytime, increasing visibility and supporting in-the-moment care decisions.
7. Analytics at the point of care
By transitioning from separate databases for clinical access and financial data to one system, Seattle Children's analytics teams can develop more accessible and reliable data and analytics that are more closely integrated with how and when patients are taken care of.
Clinicians can now access many reports within their clinical workflow, and for some types of reports they can take embedded actions. For example, a report listing patients due for a medication can now contain an action to allow providers to plan an order from the report or send the patient a MyChart message to check in or discuss the medication.
8. Care expansion made easier
Using an EHR that has a standard set of pediatric tools and is compatible with other local hospitals is enabling Seattle Children's to better respond to the needs of its patients and community. One example is the Oct. 1, 2021 expansion of Seattle Children's Fetal Care and Treatment Center.
While Seattle Children's former Prenatal Diagnosis and Treatment Clinic would refer patients out for interventions, procedures and treatments, now many of these services can be provided at the expanded center. Seattle Children's can also collaborate more closely on coordinated care with the University of Washington and leverage Epic tools like Care Everywhere to seamlessly share information between the two organizations.
"Our providers, nurses and clinicians don't care about IT infrastructure. What they want to know is, 'Can I quickly get the information I need, so I have more time to provide quality care for my patients and their families?' So that is our focus: configuring our tools to match the patient journey and support our clinicians to provide the best care possible."
9. Better integration between research and clinical teams
5,000 research participants visible
67% increase from before go-live
Epic has enabled Seattle Children's Research Division to use the same system as clinicians, which has improved visibility into research participation and allowed research processes to transition off paper and follow clinical workflows wherever possible.
In the former EHR, clinicians may not have known their patients were participating in clinical research unless they were receiving a study drug or device. Now, they have greater visibility into who is participating in research, and the Research Division is focused on making research opportunities available for all patients. Next, it will introduce MyChart recruitment and a new analytics tool to better identify potential patients and understand trial feasibility.
10. Better financial health
85% of professional billing charges made in real time
900,000 charges totaling over $265 million supported
Seattle Children's can now capture revenue directly from physician entries in Epic and file charges in real time, eliminating the need to compare notes in one system to charges in another and reducing the risk of error.