Greetings From Dr. Zafar Chaudry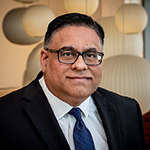 As I reflect on 2021, I'm inspired by how our teams at Seattle Children's have adapted to the challenge of the ongoing COVID-19 pandemic and found new and innovative ways to deliver on our mission.
Over the last year, we've focused on stabilization and adoption of Seattle Children's first integrated electronic health record (EHR) with Epic. On Oct. 3, 2020, we replaced two highly customized systems with a standard set of pediatric tools across 46 sites in four states — this was Seattle Children's largest undertaking in the last 15 years and a momentous step forward to helping us provide the best possible care to every patient and their family who comes to Seattle Children's.
This last year has shown us that we've laid a strong foundation on which we can continue to improve the care experience. Read on to learn about our progress and what's ahead.
With great respect and appreciation,

Zafar Chaudry, MD, MS, MIS, MBA
Senior Vice President and Chief Digital and Information Officer