Publications and Resources
Linkages Newsletter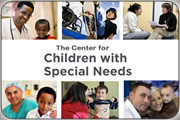 Do you work with children with chronic physical, developmental or behavioral conditions? The Linkages newsletter provides topic-specific, timely resources to use in your practice. Each issue includes:
Practice tools and clinical care guidelines
Handouts for patients and families
Research articles
Washington-specific resources
Recent topics include resources for teens with special needs (such as a Teens: Talking With Your Doctor video) and youth-centered transition planning.
Linkages is produced by the Center for Children With Special Needs, a program of Seattle Children's with support from the Washington State Department of Health, Children With Special Health Care Needs Program. It is published three times a year, and can be delivered directly to your email inbox. We welcome topic suggestions for future editions.