Training
Continuity Clinics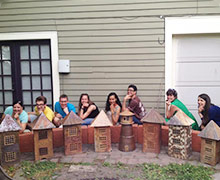 The Odessa Brown Children's Clinic staff is a tight-knit group who care for the underserved children in the Central District neighborhood.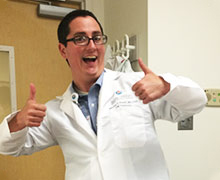 Weston Powell cheery as ever in between seeing clinic patients!
The continuity clinic experience offers residents the opportunity to provide longitudinal care to children throughout their three years of training. Our community clinics give residents the ability to cultivate relationships within the diverse communities of Seattle.
In addition to regularly scheduled clinic time throughout the year, R1s will spend a four week block rotation focused on community pediatrics based at their clinic site. This allows R1s to develop a greater understanding of the clinic as well as grow the patient panel they will follow throughout residency. This rotation also allows R1s the opportunity to experience a multitude of community based services relevant for caring for the families in the context of their communities.
The clinic sites are as varied as our residents' interests, with each offering unique opportunities and perspectives. We believe you will find a continuity clinic site to nurture whatever your unique interests and goals may be as a pediatrician.
In addition to the sites listed below, some residents have their continuity clinic experience with private practice pediatricians and smaller public health or community health clinics throughout the greater Seattle area.
For all sites, a system-wide case-based continuity clinic curriculum is available for weekly teaching by clinic preceptors, presented as Topic of the Week. These cases, along with handouts and reference articles, are cataloged on our password-protected residency website for reference.
Pediatric Clinc at Harborview
The Pediatric Clinic at Harborview is a primary care clinic within Seattle's county hospital, Harborview Medical Center. It serves primarily underserved inner-city children. Many patients are recent immigrants from eastern Africa, Vietnam, Cambodia and Central America. It is a well-developed, specialized clinic that excels at caring for children with high medical and social needs.
Neighborcare – Columbia City
The continuity clinic at Neighborcare – Columbia City was the newest addition to our continuity clinic sites in July 2015. The site has provided primary care to families in the Columbia City area of Seattle for over 30 years, and was originally opened as a public health clinic in response to the health care needs of vulnerable families, including many immigrants and refugees. The practice has many on-site services, including social work, interpreter services, pediatric RN case management, nutrition and behavioral health services. The children seen at Columbia are diverse, low-income, mostly East African, Southeast Asian or Hispanic immigrant families and include medically and socially complex patients.
Neighborcare – Meridian
The continuity clinic at Neighborcare – Meridian is embedded in a community-based health center providing primary care to families in the Northgate area of Seattle for over 30 years. The clinic originally opened as a public health clinic in response to a large unmet need for health care for the most vulnerable populations. Neighborcare, a successful community clinic network, assumed leadership of the clinic in 2014. The clinic serves whole families, often at the same visit with family practitioners, midwives, nutritionists and behavioral health specialists.
Odessa Brown Children's Clinic
Odessa Brown Children's Clinic is an inner-city satellite clinic of Seattle Children's Hospital which provides general pediatric care and sickle cell specialty care, as well as dental and mental health services. "Odessa" has been a vital institution serving the African American and Latino communities in the Central District of Seattle for more than 40 years. The clinic is a cherished part of the central Seattle community.
UW Pediatric Care Center at Roosevelt
UW Pediatric Care Center at Roosevelt offers an opportunity to experience a continuity clinic in a practice resembling that found in most urban settings. Clinic patients are culturally and ethnically diverse and represent a varied socioeconomic spectrum, ranging from low-income families to children of university faculty and staff. Many patients are recruited from the UW Newborn Nursery as infants, allowing the resident to develop a relationship with the family from birth. Roosevelt Clinic also houses the Center for Adoption Medicine.
UW Neighborhood Kent/Des Moines Clinic
UW Neighborhood Kent/Des Moines Clinic is our newest community training site for pediatric residents. The clinic's patient population is derived primarily from the surrounding areas of Kent, Des Moines, Tukwila and South Seattle (approximately 80,000 children under the age of 19), as well as from outlying cities such as Auburn, Federal Way, Renton, Pullayup and Tacoma. The Kent/Des Moines community is culturally diverse with a significant number of families whose primary language is Spanish, and many families from Cambodia, Taiwan and Vietnam.