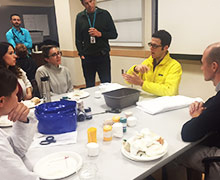 Residents participate in "procedure boot camp" throughout their three years of training to practice common procedures such as splinting, suturing, PIV placement and umbilical line placement.
Resident education is a top priority in our program, and the extensive teaching conferences reflect our commitment to developing our residents' knowledge base.
In addition to the weekly schedule outlined below, residents attend journal club, procedural simulations and subspecialty conferences.
Morning Report
Each Monday, Wednesday and Friday morning, residents and attendings meet for an informal and interactive discussion of interesting patients in the hospital. Chief residents or associate chief residents facilitate case-based learning about topics ranging from interesting diagnostic mysteries to management dilemmas.
Mock Code
Every other Tuesday morning, residents participate in mock code run by chief residents and ED attendings. SimBaby is used to create realistic scenarios in which residents can practice skills such as intubation, chest compressions and intraosseous line insertion while following PALS algorithms. There is also a strong focus on teamwork, division of roles and communication in the code setting.
Grand Rounds
Every Thursday morning, hospital staff, and community physicians attend this lecture series of varied topics, ranging from advances in molecular research to legislative issues affecting children. This forum brings international experts in pediatric medicine, research and policy and relates their expertise to our local population. See the schedule for Grand Rounds.
Ambulatory and Inpatient Noon Conference
Each year, a core curriculum of ambulatory and inpatient topics are presented by general pediatric and subspecialty attendings during noon conference on Mondays, Tuesdays, Wednesdays and Fridays. This series provides a framework for approaching common pediatric diagnostic and management issues.
Friday emails from the chiefs summarize the teaching points from the week's morning reports and noon conferences.
Resident Case Presentation (RCPs)
Each R3 is required to present a noon conference to faculty and fellow residents on a topic of his/her choice during their R3 year. Residents are encouraged to present on any topic that interests them, and receive mentoring on their presentations. Presentations have ranged from case-based talks focused on a wide variety of medical topics, to talks on resident research or advocacy work, to talks on social determinants of health, ethics, or medical education.
If interested, residents are also encouraged to present morning reports, noon conferences, and at patient safety conferences, especially during their associate chief resident and teaching rotations.
Patient Safety
The first Wednesday of every month includes a patient safety conference. These conferences bring together residents, nurses, administration and faculty with the goal of reviewing critical cases from our hospital experience. As a teaching institution, this process provides invaluable opportunity for us to learn from our experience and subsequently provide better patient care.
Night Curriculum
With the change to day and night shifts on the inpatient medicine service, we have developed a night curriculum facilitated by senior residents over "midnight breakfast" each night Monday through Thursday. This case-based discussion series focuses on evidence-based management of common problems that occur overnight. Topics include altered mental status, gastrointestinal bleeding, electrolyte abnormalities, shock and others.