What is the Alaska Track?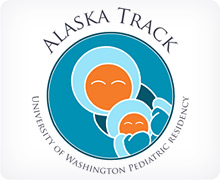 The University of Washington/Seattle Children's Pediatric Residency Alaska Track is a primary care track of our three-year categorical pediatric residency program.
Why did we develop this track?

Our training program is the only civilian pediatric residency in the entire five-state WWAMI region. We feel that one of our most important responsibilities is to train pediatricians to meet the primary care needs of children throughout this area. While approximately half of our graduates already choose a primary care career, we would like to increase the number of graduates who eventually practice in the WWAMI region.
A well-designed primary care track can be a highly effective way to meet that goal.
How will residents' time be spent?
In each of the three years of residency, residents in the Alaska Track will spend eight months of the year in Seattle and four months of the year in Alaska.
The time in Seattle will be focused on inpatient medicine, subspecialty electives, intensive care and ED rotations all in the three major teaching hospitals that are part of our program.
The time in Alaska will be focused on ambulatory rotations in two different practice settings. The sites were paired so that each resident spends time in two different practice settings - one setting that serves a primarily Alaska Native population and one setting that serves the general population. Rotations will take place at one Anchorage site and one site outside of Anchorage.
Anchorage/Fairbanks
Southcentral Foundation Alaska Native Medical Center, Anchorage
Alaska Native Medical Center (ANMC) is the referral tertiary hospital for the Tribal Health System in the State of Alaska. ANMC offers a complete spectrum of pediatric care, including a large outpatient pediatric clinic, inpatient pediatrics, a pediatric subspecialty clinic and pediatric/neonatal intensive care. The providers and staff at ANMC are dedicated to working with the Alaska Native community to provide the highest quality pediatric care in Alaska.
Tanana Valley Clinic, Fairbanks
Tanana Valley Clinic Pediatrics provides full-service pediatric care to residents of the interior of Alaska and the surrounding areas. The 10 board-certified pediatricians oversee an active outpatient practice as well as inpatient service including a Level 2 NICU, a busy newborn nursery and a 12-bed pediatric floor.
Anchorage/Bethel
The Children's Hospital at Providence – LaTouche Pediatrics, LLC, Anchorage
LaTouche Pediatrics is the largest private pediatric clinic in Anchorage and offers full spectrum pediatric care from newborn through adolescence. This practice has a leadership role in both the medical and non-medical communities throughout the state. LaTouche Pediatrics is also an established teaching practice for WWAMI medical students.
Yukon-Kuskokwim Health Corporation, Bethel
Pediatricians in Bethel serve as pediatric specialists for the local region, which is about the size of Oregon. They attend complex deliveries and pediatric emergencies, travel to outlying villages for high-risk deliveries and care for complex pediatric patients. This site provides residents an opportunity to work in this highly underserved area, with experienced pediatricians and needed resources to improve the health of a high-risk population.
Won't this be expensive for residents in the track?
The residency program will provide residents in this track with:
Round-trip airfare from Seattle to Alaska
Housing in Alaska
The use of a car in Alaska
Licensure in Alaska for all three years of training.
We believe this should offset most, if not all, of the additional expenses of participation in the track.
What makes the Alaska Track different from other primary care tracks?
Residents in the Alaska Track will have all of the benefits that the UW/Seattle Children's categorical residency has to offer and at the same time will have an incredible opportunity to work in both the Alaska Native and private practice settings with an exceptional group of practicing pediatricians.
What do Alaska Track residents have to say about the experience?
Medicine in Bethel is completely different than any other place I have worked, since it is off the road system and reachable only by plane, snow machine or boat. At an acute visit, not only do you have to address the issue at hand, but you are the one deciding whether it is safe for this child to fly back to their village, and when they should return to Bethel for follow-up. Or, whether this child needs further work-up and needs travel coordinated for a trip to Anchorage.
A well-child visit, and the anticipatory guidance associated with it, also takes on an entirely different feel when you realize that the child lives in a home without running water or electricity, and the family's only mode of transportation is a snow machine. Do you use a rear-facing car seat on a snow machine? Still have not quite figured out the logistics of that endeavor. It is an amazing, eye-opening experience that forces me to think outside the box every single day.
– Patti Clay, Alaska Track Resident
Why choose the University of Washington?
The University of Washington is known throughout the country for the WWAMI program, which has been at the forefront of innovation in decentralized medical education.
For over 35 years, all of our pediatric residents have spent two months in their PL-2 year in one of five rural pediatric practices in the WWAMI region. Residents have consistently voted this experience as one of the most important rotations in their three years of training.
With over three decades of experience with this model, the University of Washington has developed an incredible infrastructure to support primary care education.
How do I apply to the Alaska Track?
As on the other individualized training pathways the UW Pediatric Residency Program offers (including the Global Health, Community Pediatrics and Advocacy and Research Pathways), the residents in the Alaska Track are firmly integrated within the categorical program and are a part of the larger family of the pediatric residency program.
Due to the extended time commitment in Alaska (four months per year), however, there is a separate match number to apply to the Alaska Track. To be considered for both the straight categorical program and the Alaska Primary Care Track, you must apply to each separately using their individual match numbers.
Please note that the interview process for the Alaska Track will involve an interview in Seattle and Anchorage. Should you decide to apply to both the categorical program and the Alaska Primary Care Track, you will only need to interview in Seattle once, and we will work to coordinate your interview in Anchorage during the same trip. In consideration of the additional cost involved with the two-step interview process of the Alaska Track, you will be reimbursed a portion of the cost of your travel to Anchorage.
Please follow the instructions on how to apply to the University of Washington/Seattle Children's Pediatric Residency Program.