Life in Seattle as a Resident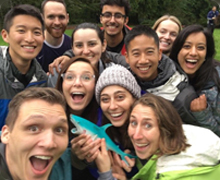 Nestled between mountains and Puget Sound, Seattle has something for everyone.
The residency program believes in a healthy work/life balance for residents and their families during this busy time. With its vibrant city life and abundant outdoor activities, Seattle has easy access to wonderful adventures. Seattle is well-known for its placement within the idyllic vistas of the Pacific Northwest. Situated on Puget Sound, the city lies between the Olympic Mountains to the west and the Cascade Range to the east. Southeast of the city in the Cascade Range is Mt. Rainier, its 14,410 feet dominating the skyline on a clear day. There are countless days with perfect mountain views. Despite its rainy reputation, Seattle has less rainfall per year than New York City, Houston, Boston or Philadelphia.
A Diverse City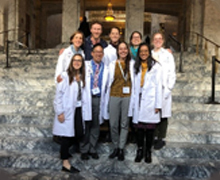 Residents advocating for their patients in Olympia, Washington.
Seattle is a culturally dynamic city, home to a diverse population. The city of Seattle and the greater Seattle area is located on Suquamish, Duwamish, Stillaguamish, and Coast Salish land. Native history and culture is an important part of the city and the region. In addition to Native Americans, there is a strong Alaska Native and Native Hawaiian population. The city is also home to many first- and second-generation immigrants from Africa, Central America, Asia, Eastern Europe and the Pacific Rim. After English, the most commonly spoken languages in the hospital are Spanish, Vietnamese and Somali.
Seattle has an active LGBTQ community with several fun events throughout the year.
Get Outdoors!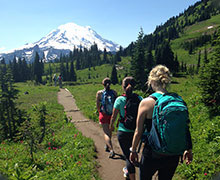 Close to Seattle are hikes through alpine meadows with stunning views.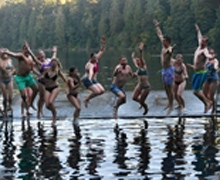 There are many lakes throughout Seattle and the surrounding area perfect for a summer swim.
Outdoor life is an integral part of the city. From walking your dog around Green Lake with latte in hand, to barbecuing on the beach while the sun sets over Puget Sound, to a long bike ride on the Burke–Gilman Trail, there are acres of parkland throughout the city. The many lakes and rivers and Puget Sound also have boating opportunities, from paddling small kayaks to riding the large ferries that are part of Washington's public transportation system.
The mountains are easily accessible in summer for gorgeous hikes to alpine lakes and surrounding peaks on trails lined with wildflowers and huckleberries. We have excellent faculty who are outdoor enthusiasts and are always available to recommend their favorite day hikes to backpacking excursions. In the winter, alpine skiers and snowboarders delight in the numerous resorts just an hour's drive away. Snowshoeing and Nordic skiing are also popular ways to explore the area.
Music and Arts
If you like live music, Seattle has more than 80 music clubs scattered throughout many neighborhoods, including Capitol Hill, Ballard, Fremont, SoDo and the Central District. The summer brings even more venues, when many parks and the Woodland Park Zoo host their annual concert series. Although we are the city that originated grunge, there is a diverse selection of bands to suit any taste.
If classical music is more your speed, Benaroya Hall is home to the Seattle Symphony. The Seattle Opera and the Pacific Northwest Ballet perform at Seattle Center.
There is excellent live theater, supported by seven theater schools, 29 professional theater companies and 56 fringe theater companies. Many playwrights, novelists and poets also call Seattle home.
Five art museums and 190 galleries display fine art as well as folk art from Asian American and Native American cultures. In addition to established galleries, many neighborhoods host a monthly art walk, where local businesses display work by local artists. You can walk through the shops while sampling tasty treats and listening to live music.
Delicious Northwest Cuisine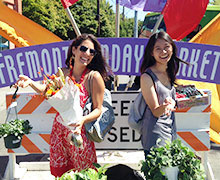 Seattle markets are great places to find deals on local flowers, fruit, produce and jewelry.
Seattle is an epicure's delight. Whether you choose neighborhood haunts, cuisine from various cultures around the world or restaurants with acclaimed celebrity chefs, dining is an experience in sheer culinary artistry that relies heavily on the bounty of locally sourced foods. From sushi to salmon to soul food, Seattle's eateries can satisfy cravings for a dish from any corner of the world. If you prefer to be behind the stove, local farmers' markets and Pike Place Market provide fresh seasonal ingredients like halibut, wild salmon, Dungeness crab, sweet onions, mushrooms, stone fruits, berries and asparagus.
Did you know that the climate in Seattle is similar to some of the finest winemaking regions in France? Although it has relatively young wine industry, Washington has quickly grown to be the nation's second largest wine producer, and is ranked among the nation's top wine regions. In addition to the Puget Sound appellation, Eastern Washington boasts 10 more appellations which make for an excellent weekend getaway.
Microbreweries have also established a strong presence in the Pacific Northwest. In addition to the well known Redhook and Pyramid, Washington state has more than 100 craft breweries.
A Day in the Life of an Intern on the Inpatient Medical Service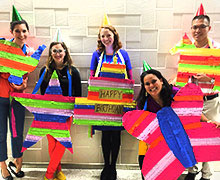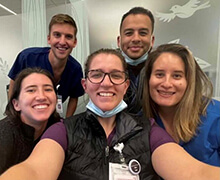 6:30–7:30 a.m. – Team sign-out
The day team consists of two to three interns and one senior resident in addition to medical students. Every morning, they meet together to get sign-out in their team room from the overnight team of one senior resident and one intern. Throughout the inpatient month, the intern builds sign-out skills, ultimately taking the lead during this time.
7:30–8:45 a.m. – Pre-rounding
Each day, interns will follow an average of five to eight patients. They use pre-rounding time to discuss events with the nurses, review flow sheets, examine their patients and talk to families.
8:45–9:15 a.m. – Intern/senior planning time
After completing pre-rounding, interns review new findings and refine their assessment and plan with their senior resident. The numerous accessible computer work stations allow for easy review of laboratory data and imaging.
9:15–11:30 a.m. – Family-Centered Rounds
Each team rounds with general pediatric and subspecialty attendings. Patients and their families, nurses, pharmacists and social workers join the medical team to plan care for the patient. Teaching by the senior resident and the attending is an important part of rounds. The team coordinator facilitates rounds and performs administrative duties such as scheduling PCP and specialty follow-up appointments for the team throughout the morning.
12:30–1:30 p.m. – Case Crunch and Board Bites (Monday, Tuesday, Wednesday, Friday)
At case crunch, the chief residents lead residents and attendings in review and discussion of an interesting case. Strong faculty presence makes this interactive educational conference a resident favorite. Lunch is provided. Following case crunch, faculty members from various disciplines present topics in a variety of formats during board bites. Evaluations are collected in order to improve the following year's curriculum.
12:30–1:30 p.m. – Intern Support Group and Senior Report (Thursday)
Once weekly, senior residents take their interns' pagers so that the R1s can participate in this session. The group is typically facilitated by a wellness counselor, and the time is an opportunity for interns to confidentially share their experiences and enjoy delicious snacks! During this time, seniors gather for senior report to talk about interesting cases where they can ask questions of seniors on other teams.
1:30–6:30 p.m. – Patient care
Interns follow up on issues or tests ordered on their patients. They meet and admit new patients with supervision by the senior resident.
2:30–3 p.m. – Bedside teaching
In addition to bedside teaching on rounds, there is dedicated time in the afternoon for team attendings to teach on topics relevant to the team's current patients.
4:30–5:30 p.m. – Check-In Rounds
Interns check in with all the nurses they have been partnering with throughout the day to make sure the day's goals for the patient are being met and assure there are no outstanding issues prior to evening sign-out.
6–7 p.m. – Team sign-out
Care is transitioned back to the night team.