Justice, Equity, Diversity, Inclusion (JEDI) and Antiracism in the Pediatric Residency Program
Residency Program Statement on Diversity and Antiracism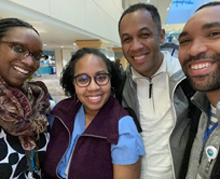 Systemic racism is a crisis that impacts our patients and community every day. As pediatricians, it is our responsibility to uphold the values of justice, inclusion, and equity. Our pediatric residency at the University of Washington (UW)/Seattle Children's Hospital (SCH) is committed to fostering an environment of inclusion that values underrepresented minorities in medicine (URMs), including members of our community who identify as Black, Indigenous, and People of Color (BIPOC) and lesbian, gay, bisexual, transgender, gender diverse, intersex, queer, asexual, questioning and allies (LGBTQIA+).
What started in 2003 as specific efforts in recruitment and retention of URMs to our program and hospital has grown into an intentional curriculum and environment surrounding inclusion and health equity. Advancing anti-racism is core to our mission and to our duty as child advocates. Our residency program and hospital have several programs to support these efforts to promote health justice for our patients and their families, our trainees, staff, and faculty.
Residency Diversity Committee (DComm)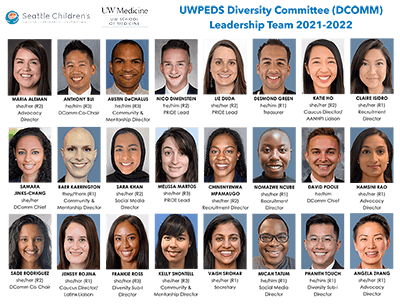 The Diversity Committee (DComm) of the University of Washington/Seattle Children's Pediatric Residency Program is a resident-led and faculty-mentored team that is committed to championing justice, equity, diversity, inclusion (JEDI), and antiracism. (Read more about the leadership team [PDF].) We carry out these goals through recruitment activities, community building and mentorship, advocacy, education and outreach. Additionally, we build protected spaces for minoritized residents as they undergo training as physicians. In doing so we hope to build inclusivity while celebrating people's intersectional identities including racial, ethnic and cultural backgrounds; national origin; language; gender identity; sexuality; socio-economic status; disability; religion; history of immigration; and other identities.
DComm is open to all members of the UW Pediatrics residency program. We work in parallel and in conjunction with our UW Department of Pediatrics Faculty JEDI Committee.
We carry out our goals through 3 strategic aims through recruitment and retention activities, planning of a diversity funded subinternship, community and mentorship events, protected safe spaces for minoritized groups and race-based caucusing, and advocacy efforts in our local institutions and communities. Some of our projects include:
Active participation in the recruitment of a diverse class of talented and unique individuals
Providing safe spaces to process sensitive resident experiences related to diversity, equity and inclusion
Building community across trainees and faculty through social events and partnership with the Faculty Justice, Equity, Diversity and Inclusion (JEDI) Committee
Active leadership within Network of Underrepresented Residents and Fellows (NURF), including Dr. Gabriel Mendoza PGY-3 (Vice President), Dr. Kelly Shontell PGY32 (Community Outreach Chair), Dr. Baer Karrington PGY-1 (Education Co-Chair), Dr. Kilia Shanklin PGY-1 (Medical Student Outreach Co-Chair) and Dr. Eric Robles PGY-1 (Secretary/Treasurer)
Collaboration with Graduate Medical Education at Seattle Children's on projects and issues related to diversity and inclusion (such as antiracism action plan, microaggressions reporting systems)
Partnership with medical students on service and advocacy projects in the greater Seattle area
Support of pipeline programs for URM students interested in health science careers
INCLUDE (Inclusion, Cultural Humility, Diversity and Equity) Curriculum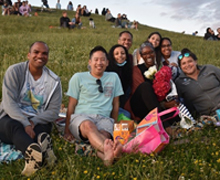 Implemented in 2017, our INCLUDE longitudinal curriculum covers approximately 25-30 hours of material each year, including skill building, didactics, and small group discussions. These sessions include case conferences, book clubs, journal clubs, and humanism sessions. During intern year, there is dedicated time for EDI training, including sessions on cultural humility, the historical context of racism in medicine, and addressing microaggressions. Additionally, didactics are held throughout the year on issues related to health care equity, such as trauma-informed care, LGBTIQ+ health, religion in medicine, immigration law, and other topics.
Health Equity Rounds
Developed by a group of current residents in 2019, Seattle Health Equity Rounds (HER) is a series of interdisciplinary case-based discussions at Seattle Children's Hospital (SCH) that explores issues of equity, bias, and racism that play out in medical settings today. As resident physicians, we have partnered with nurses, social workers, and the larger healthcare workforce at SCH to lead and facilitate conferences with the intention of opening dialogue across disciplines to talk about how race and equity affect our patients and their care and the way that we work with one another. We hope these conferences and subsequent dialogue lead to important policy and behavioral change in our workforce to advance equity for our patients and families and each other.
HER has four broad goals:
To understand and learn concepts and language used in health equity, such as implicit bias and structural racism
To identify implicit bias and structural racism in clinical scenarios
To describe and understand the historical context and present-day role of structural racism in the community and at our own institution
To take time to reflect on bias at our institution, and to develop strategies to combat structural racism at the institutional level and across disciplines
Our HER conferences reach between 200-350 hospital workforce members each session. Past topics have included reviewing bias towards Indigenous families and the history of Indigenous family separation; racial bias towards families with parental substance use and disproportionate calls to Child Protective Services; racial bias in calls for security and policing in the hospital; and inequitable care for families who speak a primary language other than English.
Follow us on Twitter (@SeattleHER) and access our Seattle Health Equity Rounds Glossary to learn more.
Empowered Voices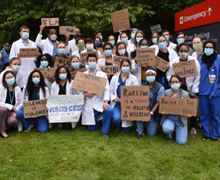 Our residents are advocates for patients and communities of color and use their voices and positions as medical professionals to improve the health and well-being of all our patients. Some examples of ways our residents are currently involved in advocacy include:
AAP Representatives work directly with the Washington Chapter of the AAP to lead advocacy efforts within our residency program and serve as experts on state legislative issues related to child health.
Over the past two years, the residency class wrote an Anti-Racism Call to Action statement to hospital leadership that included resident experiences and concrete action steps to aid in improving the hospital environment for our minority patients, trainees, staff, and faculty.
Residents helped to organize and participated in a university-wide silent demonstration in conjunction with the UW Network of Underrepresented Residents and Fellows
Participation in the Seattle Doctors for Justice March, which drew more than 10,000 healthcare workers from the greater Seattle areas to downtown Seattle in June 2020.
Publication of an op-ed addressing the daily effects of systemic racism on child health.
Health Equity Track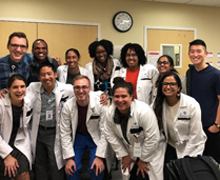 In addition to the EDI curriculum and advocacy opportunities for all of our pediatric residents, in 2020-2021 we matched our inaugural class for the Health Equity Track. The mission of the health equity track is to train a diverse group of pediatric residents to advance health equity for children and adolescents through collaborative clinical care, community partnership, advocacy, and education. Residents in this track have dedicated months throughout their residency focusing on growing skills in advocacy, leadership, and communication, while building toolkits to recognize structural roots of health inequity and effectively strategize and mobilize resources and interventions to advance health equity for our children, adolescents, and families.
Visiting Diversity Acting Internship
This funded opportunity for underrepresented students allows applicants (MS4) to experience our program first-hand and get to know our residency program, Seattle, and the greater Pacific Northwest. We currently host up to 5 positions/year with rotations ranging from nephrology elective to inpatient acting internship rotations. Since the initiation of the diversity acting internship program, 30% of the diversity acting internship students have matched into our program. Of our residents who also participated in the acting internship as students, 25% still work in the region our system serves. If interested, please learn more on how to apply for our funded acting internship for under-represented in medicine applicants.
Additional Partnerships