Neonatal Advanced Practice Provider Fellowship
Neonatal Physician Assistant Fellowship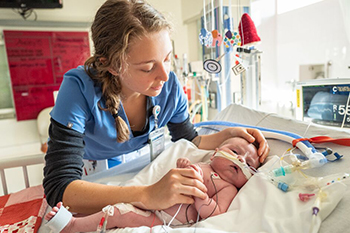 Welcome to the Seattle Children's Neonatal Physican Assistant Fellowship! Our mission is to provide board certified physician assistants the post-master's degree education, training, and skills they need to become successful and confident neonatal advanced practice providers. Our Neonatal PA Fellowship is a 12-month clinical and didactic training program with a cohort starting once per year.
Prior to matriculation into the Neonatal PA Fellowship Program, the PA applicant must meet the following requirements:

Graduated from an ARC-PA–recognized physician assistant school
Master's degree
NCCPA board-certified

Neonatal PA Fellows will spend most of their time rotating through three of the level III community sites in the SCH regional neonatology program. This will help establish a solid foundation to become a competent neonatal advanced practice provider. At the end of the year, Fellows will have a chance to rotate through Seattle Children's level IV NICU to experience surgical care and increased complexity of patients.

Providence Regional Medical Center, Everett
Valley Medical Center, Renton
St. Joseph Medical Center, Tacoma
Seattle Children's Hospital, Seattle

Bootcamp

The first two weeks of training provides a general overview of neonatal concepts and an introduction to Seattle Children's Neonatal APP Regional Program. This includes:

Classroom-based lectures with a focus on core neonatal topics including perinatal physiology, common newborn problems, fluids/electrolytes/nutrition, ventilator management, blood gas interpretation, patient presentations practice, simulation of difficult conversations.
Simulation lab to provide hands-on learning of common NICU procedures and resuscitation skills
Complete onboarding at clinical sites
Visit and tour clinical sites

Clinical rotations

After the first two weeks of bootcamp, each fellow will rotate through two weeks with the neonatal nurses and two to three weeks with normal newborn rounders in the mother–baby unit. These rotations facilitate an introduction to the NICU from a nursing perspective and as well as an introduction to basic newborn assessment and care. There will be a required completion of nursing skills checklist provided at the beginning of the nursing rotation.

The neonatal PA fellow will begin clinical training in the NICU about two months after the program's start date. They rotate to all sites over the 12-month period beginning in the Level III NICUs. Neonatal PA fellows will always have experienced neonatal APP mentors with them who will guide them through expected clinical competencies. Neonatal PA fellows begin with a small patient load and are expected to progress on patient load and acuity each month. By months 10–12, the neonatal PA fellow will be taking an entire APP patient load daily with the mentor acting as a support person, providing minimal guidance as needed.

Neonatal PA fellows spend 30–40 hours in clinical training each week on 12-hour shifts. The neonatal PA fellow will begin on day shift and will be expected to progress to a combination of day and night shifts by three months into their clinical training.

Formal clinical evaluations are performed every 6–8 weeks by APP mentors.

Super-Mentor Program

We have developed a "Super-Mentor" Program which allows dedicated mentorship of our Neonatal PA fellows while on shift with varied other learners within the Seattle Children's program. The Neonatal PA Fellow will have some clinical rotation shifts with the Super-Mentors and some with traditional Neonatal APP mentors, who split a caseload of patients with the learner.

Didactics

Weekly didactic classes are taught via a case-based, systems approach. The focus of learning is application of the concepts, assessment, diagnosis, care management, communication and documentation related to cases and topics.

Classes are taught by an array of guest speakers including neonatologists, APPs, dietitians, pharmacists, nurses, respiratory therapists, therapists (physical/occupational) and more.

Content includes:

Nursing care concepts
Perinatal physiology
Resuscitation
Newborn assessment
Systems-based learning: FEN, respiratory, cardiac, GI, ID, metabolic disorders, hematology, neurology, genetics, social
Case presentations
Team building
Quality improvement
Research

The PA fellow will be provided with texts and weekly resources. There will also be weekly assignments to support expected competencies. Didactic evaluations will occur at weeks 8, 20 and 30 to test critical-thinking skills.

Procedural skills

During bootcamp and throughout the year in clinical rotations, the PA fellow will be mentored in and will become competent in the following procedures:

Intubation
Umbilical line placement
Chest tube insertion
Needle thoracentesis
Lumbar puncture
Peripheral arterial line placement
Peripheral IV placement

2022–2023 fellowship year

Carsyn Wessel
JuleeAnn Stocking
Kayla Chang

Neonatal PA fellows are selected based upon assessed qualities of academic achievement, keen interest in neonatology, desire for learning, previous clinical experience, previous elective experiences in NICUs, ability to work a flexible schedule at various clinical sites and confidence. We accept two to three neonatal PA fellows per year.

Timeline for 2024 Cohort

Applications accepted through July 31, 2023
Interviews held August 7-11, 2023
Offers made the week of August 28, 2023
Start date January 22, 2024

For more information, please email Sandra Kirkevold at sandra.kirkevold@seattlechildrens.org.
Contact us
Email