Residency and Fellowships
Administrative Fellowship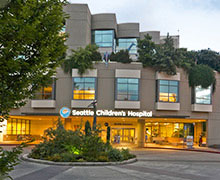 Seattle Children's Hospital – ranked as one of the best children's hospitals in the country by U.S. News & World Report – serves as the pediatric referral center for Washington, Alaska, Montana, and Idaho. For over 100 years, we have cared for children with illnesses and injuries. Though much has changed in pediatric medicine during the past century, we are proud that Seattle Children's has often been at the forefront of these advances.
Seattle Children's is dedicated to caring for our young patients, training healthcare professionals, pursuing research and clinical innovation and serving our community. To achieve our vision of being an innovative leader in pediatric health and wellness, one of our strategic plan goals is to develop the next generation of pediatric healthcare leaders.
The two-year fellowship program is tailored to the administrative fellows' specific interests, as well as to organizational initiatives, during their tenure at the hospital. Fellows will gain valuable mentorship and professional development opportunities from Seattle Children's senior executives.

In the first year, fellows will focus on project-based work in different areas of the organization. In the second year, they will obtain service line management experience in a preferred department.

Key areas of focus in the first year may include (but are not limited to):

Hospital operations, inpatient and ambulatory
Continuous Improvement and Innovation
Strategic planning
Financial management
Patient safety and quality
Information technology
Regulatory compliance
Physician partnership

At Seattle Children's Hospital, our community welcomes diverse experiences and backgrounds. We recognize this is what drives our spirit of inquiry, continuous improvement and innovation, and allows us to better connect with our increasingly diverse patients, families and workforce. Each of us is respectfully encouraged to be ourselves within this community in order to cultivate and promote diversity and inclusion at all levels.

Minimum Qualifications

This year we are offering two fellowship positions.

Nursing Fellowship Position

Completed Master's Degree or Doctorate in Nursing

Administrative Fellowship Position

Completed Master's Degree in Health Care Administration, Business Administration (focused in healthcare management), Public Health, or other healthcare management-related degrees, OR are in your last year of your Master's program where a fellowship is required to receive your Master's degree.

The primary objectives of the Administrative Fellowship Program are to:

Support fellows in developing a comprehensive understanding of pediatric hospital operations
Prepare fellows to assume a contributing role on a healthcare management team
Provide fellows an opportunity to enhance important managerial competencies such as customer service, financial stewardship, operations management, change management and performance management

Pradipta Komanduri, VP of Clinical Support Services
Russ Williams, SVP and Chief Operation Officer

The fellows will report directly to Pradipta Komanduri, with a dotted line reporting structure to Russ Williams. Both Russ and Pradipta completed Administrative Fellowships early in their careers and champion our program, recognizing the value of exceptional mentorship and professional guidance during and after the two-year fellowship.

Makenna Sewell, MHA

Second Year Fellow

Originally from Portland, Oregon, Makenna attended Chapman University where she received her Bachelor of Science in Business Administration, prior to pursuing her Master of Health Administration degree from the University of Washington. Makenna's devotion towards pediatric care began at a young age, where she experienced compassionate care as a pediatric patient herself. This experience continues to fuel her passion to creating a similar experience for the patients and families at Seattle Children's. Over the years, Makenna has worked as an Administrative Resident at Shriner's Hospital for Children, a local hospital in Seville Spain, and most recently, Seattle Children's where she worked as the Administrative Intern before she accepted the fellowship position. As she is wrapping up her first year in the fellowship, Makenna is eager to join the Cancer and Blood Disorder Center, where she will assume the role of the Patient Access Manager and Interim Practice Manager.

Taylor Floyd, MHA

First Year Fellow

Originally from Jacksonville, Florida, Taylor attended the University of Florida from 2018-2021 where she received both her undergraduate degree in International Studies and Master of Health Administration. During this period, she got her start in healthcare working as a pharmacy technician before accepting an internship within the UF College of Medicine's Department of Neurology for the duration of her graduate education. She is most excited to be experiencing the healthcare environment in the Pacific Northwest where she looks forward to learning more about hospital operations, data analytics, and innovations in improving health equity and quality.

Rahma Osman, MHA - 2020-2021

Rahma Osman is currently a Project Manager at the University of Oklahoma Health Sciences Center where she is overseeing the development of a Primary Care Center for tribal, rural and medically underserved communities in Oklahoma.
Bachelor of Biology – University of Oklahoma
Master of Healthcare Administration & Policy – University of Oklahoma

Shanelle Lalor, MHA – 2019-2021

Shanelle Lalor is the Ambulatory Manager with our Clinical Nutrition Dept. Lalor's work involves supporting the operational needs of clinical nutrition services in the ambulatory setting through cost-effective resource utilization and establishment of efficient work processes to achieve department goals and organizational vision.
Bachelor of Science in Public Health and Sociology – University of Minnesota – Twin Cities
Master of Health Administration – University of Minnesota - Twin Cities

Keahi Higa, MHA - 2018-2020

Keahi Higa is currently the Business Operations Manager with Imaging Services. He has oversight of the administrative team, financial reporting, radiology research, and support of departmental projects.
Bachelor of Science in Health Promotion and Education – University of Utah
Master of Healthcare Administration & Master of Public Health – University of Utah

Melvin Smith, MHA - 2018-2020

Melvin Smith is currently an IT Supervisor within IT Core Operations. His work involves managing the Hospital, Downtown, and Regional Desktop Support teams and is currently working towards developing an Enterprise onsite IT Support Team to provide higher customer value to our Children's staff as well as our patient and families.
Bachelor of Arts in English from Tougaloo College
Master of Public Health from Brown University

Scotty Sonntag, LICSW, MHA, MPA - 2017-2019

Scotty Sonntag is the Manager of the Integrated Behavioral Health Program with the Seattle Children's Care Network (SCCN) and is currently leading efforts to implement and improve integrated behavioral health programs in primary care settings across Washington, 14 of which are within the SCCN, using a Learning Collaborative model which is a collaboration between the Seattle Children's Psychiatry & Behavioral Health Department, The AIMS Center with the University of Washington, the Pediatric Integrated Care Collaborative (PICC) with John Hopkin's University, and the SCCN.
Bachelor of Science in Sociology – University of Utah
Master of Social Work – University of Utah
Master of Healthcare Administration – University of Utah
Master of Public Administration – University of Utah

Kelsey Hyatt, MHA – 2016-2018

Kelsey Hyatt is currently the Practice Manager over the Cancer and Blood Disorder Center and is working on provider practice improvements and preparing the clinics to move into the new Building Care tower in spring 2022.
Bachelor of Science in Public Health – Tulane University
Master of Health Administration from – Tulane University

Snigdha Paruchuri, MHSA – 2016-2018

Snigdha is currently the Executive Project Manager for the Office of the CEO. She supports the CEO and CFO with system-wide priorities, drives the organizational rhythm of business process, and provides strategic support for the executive leadership team meeting
Bachelor of Science Biopsychology, Cognition, and Neuroscience; Gender & Health - University of Michigan, Ann Arbor
Master of Health Services Administration Health Management and Policy – University of Michigan – School of Public Health, Ann Arbor

Vince Chiu, MHA – 2015–2017

Vince is currently a Director of Business of Operations at Kaiser Permanente. He develops strategies with specialty service lines to improve access and lower cost of care for members in Washington.
University of California, Berkeley
Master of Health Administration – University of Pittsburgh

Jamie Wood, MHSA – 2014-2015

Senior Lean Consultant at Sutter Health
Master of Health Services Administration – University of Minnesota – Twin Cities

Jesse Favre, MSW, MBA – 2013-2015

Quality Manager at Belton Regional Medical Center
Master of Social Work and Business Administration – University of Minnesota – Twin Cities

Amy Jones, DNP, MPH – 2013-2015

Director of Operations at Nicklaus Children's Health System
Master of Public Health – New York Medical College
Doctor of Nursing Practice – Old Dominion University

Whitney Murphey, MHA – 2012-2014

Whitney Murphy is the Vice President of Surgical Services. Surgical Services includes our perioperative teams, who support safe and high-quality care in the preoperative, intraoperative and postoperative environments. It includes our surgical service lines who partner closely with the providers to work on improving the patient experience across the continuum of care. It includes our OR scheduling teams who work tirelessly on improving access for our patients. It involves all these teams and many more partnering closely to provide the best possible experience for our surgical patients.
Bachelor's in Arts of Anthropology – Whitman College
Master of Health Administration – University of Washington

Elliott Bosslet, MHSA - 2011–2013

Director of Surgeon Education at NuVasive
Master of Health Services Administration – Georgetown University

Aaron Dipzinski, JD, MHPA – 2010–2012

Director of Lean Transformation, PeaceHealth
Master of Health Policy and Administration – Washington State University
Juris Doctor – Gonzaga University School of Law

Alison (Starks) Bender – 2009–2011

Master of Health Services Administration – University of Kansas School of Medicine

Michael Lo, MME, MHA – 2007-2009

Michael Lo is currently the Director of Medical Specialties. He oversees Adolescent Medicine, Dermatology, Infectious Diseases, Developmental Medicine, Nephrology, and Rheumatology service lines. He is responsible for service line inpatient/outpatient deployment, budgeting, productivity, business planning, and other administrative areas.
Bachelor of Science in Aerospace Engineering – University of Texas at Austin
Master of Mechanical Engineering – University of Texas at Austin
Executive Master of Health Administration – University of Washington

Sapna Dhruv, MHA – 2007-2009

Regional Director of Business Operations, Memorial Hermann Medical Group
Master of Health Administration – University of Houston – Clear Lake

The Fellowship is a full-time, salaried position with market-competitive compensation and benefits. Vacation and sick leave accrue as a normal full-time employee.

Please email all application materials in one PDF document with your name, email and phone number in the header of the first page by November 1, 2021.

Qualified applicants should submit:

Narrative statement (maximum of 500 words double-spaced) addressing:

How your interest in healthcare management developed
What you hope to gain or achieve from the fellowship
Your long-term career objectives

Short Essay (maximum of 250 words)

Choose one of our organizational values (integrity, compassion, equity, innovation, collaboration, excellence) and describe why it is integral to healthcare leadership

Resume
Unofficial graduate school transcript (official transcripts are not required)
Unofficial undergraduate transcript (official transcripts are not required)
Three (3) letters of recommendation

One (1) ACADEMIC
One (1) PROFESSIONAL, and
One (1) OTHER (academic, professional, or letter from your program director)

Also apply through the SCH website via these links:

Nurse Position - OPEN until November 1, 2021
Administration Position - CLOSED

Application materials must be submitted through email with a subject line of "LastName, FirstName: Admin Fellowship Application," e.g., "Doe, Jane: Admin Fellowship Application." Please note that incomplete applications will not be considered.

For questions, please email the current fellows, Makenna Sewell and Taylor Floyd.

If you are interested in an informational interview with current fellows, we are hosting an informational webinar on August 11, 2021, from 12–1:00 p.m. PST via WebEx. Please log on early to ensure you have downloaded the necessary applications before we begin.

Meeting number (access code): 802 709 135
Tap to join by mobile phone:+1-650-479-3207,,802709135## is the call-in toll number (U.S./Canada).