Neonatal Nursing Education Briefs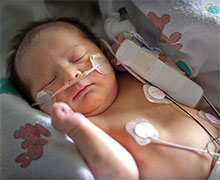 Welcome to Seattle Children's Hospital's Neonatal Nursing Education Briefs, created by the Neonatal Nurse Practitioner and Physician Assistant Program to achieve best-practice standards that improve safety and quality of care.
We hope these briefs, our Regional Neonatal Grand Rounds videos and our other resources will be helpful, and encourage you to share them with your colleagues.
For questions or assistance, please email Julie Campbell.
Continuing Nursing Education for Seattle Children's Partner Hospitals
Continuing nursing education hours are available for each brief in this series upon completion of the post-test and evaluation.
Each brief is available for two years from when it was posted.
Current Briefs
Additional Resources
Nursing Video Library
Sponsored by Seattle Children's Outreach Education Department, featuring the Nursing Grand Rounds lecture series videos for CE credit and healthcare education.
CME and CNE
These include NRP and PALS courses in addition to CME events and outreach conferences.
Training and Simulation
Find more information on NRP and PALS courses.