Water Safety and Drowning Prevention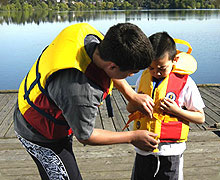 Over 860 children and teens die every year in the U.S. from drowning. In Washington state, an average of 17 children and teens drown every year. Most of them are swimming, boating or just playing in or near water.
The Washington State Drowning Prevention Network and Seattle Children's work together to provide you with information and resources on water safety and drowning prevention. We can prevent drownings if we all do our part!
Know the Water
Know Your Limits
Wear a Life Jacket
See the map below for life jacket loaner station locations. Is there a Washington state life jacket loaner station that isn't included here? Let us know.
Learn More
Contact Us
Email us to get help starting a drowning prevention campaign in your community or learn more about the Washington State Drowning Prevention Network.
Support Our Work
Support Seattle Children's water safety education and programs to increase access to life jackets. Designate your donation to "water safety." Donate now.