Swimming and Water Safety
Water Safety Promotion Ideas for Events and Health Fairs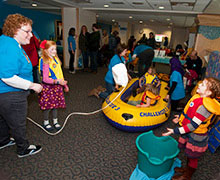 Water safety and drowning prevention events can educate children, teens and families about staying safe around the water. Ideally, the event is informational, educational and interactive. The following are activities that have been successful at events we have held and attended. Use this as a list of ideas and a starting point for what you may develop.
Life Jackets and Boats
Have life jackets of various sizes and types to try on. We know that if parents are comfortable choosing and fitting a life vest, their child is more likely to be wearing one.
Have a scale to weigh kids to help determine correct size.
Use a timer and have a family race to pick out the right life jacket and put it on. Talk about how difficult it would be if that had to be done in the water.
A large blow up raft is a great attraction to children. Have all children put on a life jacket before getting in the raft. Talk about always wearing a life jacket when in a boat or a raft. Have volunteers shake the raft around for a little excitement.
Rescue Techniques
Use a large container of water to demonstrate what floats and what doesn't. Have a piece of wood, Styrofoam, a rubber ball, a rock, bottle, etc. This provides teaching moments about the buoyancy of life jackets and about what you could throw to someone in distress out in the water (vs. diving in yourself).
Make a water rescue tool from a gallon milk jug and attach a rope to the handle. Put one inch of water in the jug and screw top on tightly. Have children or adults practice throwing the jug at a target or into a large container.
Prizes and Take-Aways
A life jacket raffle is a good way to bring people to the booth. Be sure to include child's weight on the form so you will know what size is needed.
Have crayons or markers for children to use for coloring sheets or booklets.
Provide water safety whistles, stickers, zipper pulls.