Child Development and Parenting
Supporting Mental Wellness and Family Life During COVID-19
Coping During COVID-19: Recording of our March 27 Facebook Live Panel
These are challenging times and almost everything about our daily lives looks different. Get tips from Seattle Children's experts to support your family as you cope, live and learn during COVID-19. Panelists included Scott Hampton, Manager of Seattle Children's Educational Services; Tyler Sasser, Psychologist with the PEARL Clinic, a subspecialty of Seattle Children's Outpatient Psychiatry; Kendra Read, Psychologist with the Anxiety Program, a subspecialty of Seattle Children's Outpatient Psychiatry; and Jim Mancini, Speech and Language Pathologist with the Seattle Children's Autism Center.
Help with supporting your child or teen's mental wellness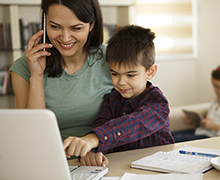 Seattle Children's: Helping Children and Teens Cope with Anxiety About COVID-19
Dr. Jennifer Blossom, a psychology postdoctoral fellow at Seattle Children's Psychiatry and Behavioral Medicine Clinic, gives advice on how to share information with the children and teens in your life in a way that helps prevent too much worry.
Child Mind Institute: Supporting Families During COVID-19
Resources include daily email tips for parenting during the crisis, twice-daily Facebook Live video chats with expert clinicians, consultations, and many more resources for parents. The Child Mind Institute is an independent, national nonprofit dedicated to transforming the lives of children and families struggling with mental health and learning disorders.
Washington State Department of Health: Parent and Caretaker Resources and Recommendations
Find the "Coping with the Stress of an Infectious Disease Outbreak like COVID-19" section, which includes how to help children of different age groups cope.
World Health Organization: Helping Children Cope with Stress During the Outbreak
Clear and simple tips for reassuring and supporting your child.
The Centers for Disease Control and Prevention: Helping Children Cope with Emergencies
Information about the emotional response kids often have during and after emergencies.
Washington's Mental Health Referral Service for Children and Teens
Connects families with mental health providers who have openings in their schedule and can meet your child's needs. We link you to providers in your local area who fit your child's specialty needs and insurance coverage. Washington state funds the free referral service and Seattle Children's operates it.
Help with adding structure and learning to your family's day
Seattle Children's School Services: Resources Developed by Seattle Children's Teachers
Seattle Children's teachers share handouts on at-home learning tips for parents, help when you or your child are feeling stuck learning or teaching, early education school schedule, upper elementary/middle school schedule and high school schedule and resources.
The American Academy of Pedatrics: Working and Learning from Home During the COVID-19 Outbreak
Tips for adjusting to a "new normal" home life for families who are learning and working from home.
Common Sense Media: Free Online Events and Activities for Kids at Home
Common Sense Media is independent, nonprofit and research backed. Since 2003, Common Sense has been the leading source of entertainment and technology recommendations for families and schools. Every day, millions of parents and educators trust Common Sense reviews and advice to help them navigate the digital world with their kids.
Seattle Public Schools: Family Resources for COVID-19 Related School Closures
Information on meals for students, learning resources, special education FAQ, childcare sites, and more.
*Check with your school district or school for information in your area.
Seattle Children's: Family Resources and Activities
Our Family Resource Center staff put together this list of resources and activities to help patients and families feel connected during this time.
Seattle Children's: Activities for Children Sick at Home
Ideas for adding activities to your child's day, beyond screen time.
Help for special groups
Seattle Children's: The Autism Blog
Recent posts provide information on how to communicate about coronavirus with your child with autism, education ideas, support and other resources.
Seattle Children's: Psychiatry and Behavioral Medicine Patient and Family Resources
Get treatment-specific resources for mental and behavioral health