Preparing Kids for Success in a Changing World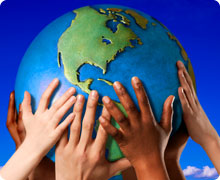 One of the most important jobs we have as parents is teaching our kids to thrive in this complex, quickly changing world. We want them to be successful citizens who can happily learn, live and work in communities that are becoming more diverse every day.
Being curious, compassionate and accepting enriches our lives – and the lives of those around us. We all benefit when we learn from each other and find what connects us. This means respecting our differences. Beyond ethnic, religious and gender differences, we must also respect our physical and intellectual differences, differences in sexual orientation and gender identity, and in mental and emotional health.
As families, we can live this philosophy through our actions. Find fun ways to learn about other cultures, and travel if you can. Push your child – and yourself – to learn one or more new languages. Socialize with families who don't mirror your own; this might include multi-ethnic, multi-generational, or same-sex-parent families. Attend religious services or cultural celebrations with friends whose background is different than yours. If you can choose your child's school, be sure it offers a diverse mix of both students and staff members. Help your child arrange a play date with a classmate who has a physical challenge or disability, and get to know that child as a person.
We can choose toys, books, videos and music that value diversity. When we spot stereotypes in the media, we can talk with our kids about how these unfair portrayals can be harmful. And we may need to re-think how we talk or joke about others. What messages are we sending our kids if we refer to someone as 'crazy,' or grumble about a person's accent being difficult to understand?
Does an attitude of acceptance mean that all behaviors should be accepted? Of course not. Our kids can understand that it's never OK to hurt or disrespect others. Lying, cheating, stealing and bullying should not be tolerated at home, at school or in society.
In a world that is changing so quickly, there's something that will always be true: kids who feel deeply loved and respected – simply for being their unique selves – have a solid foundation for life. They'll be ready to go out into the world and do wonderful things!
Tips for Medicine Safety

We can all prevent accidental poisonings from medicines if we follow some key safety tips. First, never refer to medicine as 'candy'; call it medicine. Store it out of a child's sight and reach, and lock cabinets and drawers. (Don't assume a high-up location is safe, since kids like to climb and explore.) Purses and other personal bags often contain medicine, so keep them somewhere safe where kids can't access them. Keep all medicines in their original containers and follow label directions; re-read them each time and follow dosing instructions. Check the expiration date and safely dispose of old products. Finally, have grandparents and other caregivers medicine-proof their home prior to a child's visit.
Learn more by reading Household Safety: Preventing Poisoning or visit the Washington Poison Center.
Getting Ready for Preschool

A high-quality preschool is a fun place, and it helps prepare kids for their future. Preschool is where most kids first work with teachers and alongside other children. They learn to share and follow instructions, which are important skills for elementary school. Before your child starts preschool, you can prepare them for success. Stick to a regular schedule for eating, bathing and sleeping to make the transition to a school schedule easier. Daily chores teach responsibility and the value of cooperation. Read with your child every day, so they will have an easier time learning these new skills. Help them develop their fine motor skills with toys, plus activities such as coloring, gluing and cutting with kid-size safety scissors. Two or three weeks before class starts, talk in a positive way about all the fun they'll have at school. If possible, arrange for some 'sneak peeks' for your child: meet their teachers, observe a class in session, and use the playground after school or on the weekends, so it starts to feel like a fun and familiar place.
Browse our growth and development articles to learn more about the toddler and preschool years.
Helping Tweens and Teens Cope with Stress

Tweens and teens often feel stressed by school, outside activities and their social lives. When we help our kids learn to cope with stress, we're giving them some important tools for life.
Kids usually don't just start talking about what's bothering them. But they do want their parents to reach out and help them with their troubles. To start the conversation, simply 'notice out loud,' and name the feeling you think you're seeing. For example: "You seem a bit discouraged and overwhelmed. Would you like to talk about that?" Then, listen carefully and calmly — without judging, blaming or lecturing. Let your child take the lead on brainstorming solutions. And while we can't solve our kids' problems for them, we can sometimes help them reduce their stress triggers. For example, if homework is a big stress, suggest a 20-minute run midway through their work. Or you might need to help them limit their other activities, or find a tutor.
There's a free tool for coping with stress. 'Trigger cards' are used at Seattle Children's Hospital to help kids pinpoint what makes them feel mad, sad or upset. The cards also help kids realize how they deal with stress, and how they might better cope with it. (Visit the link below to learn how to create and use your own trigger cards.) Let your child know that we all have stress, and that you'll support them in finding solutions that work.
Learn more about how to use trigger cards and get your own trigger card to use at home.
No Bulky Coats in Car Seats
Is your child's bulky winter coat putting them in danger in their car seat? In a crash, bulky or puffy coats compress, making the car seat straps suddenly too loose and thus unsafe. As a result, a child can suffer a serious injury or even be ejected from the car seat — and possibly the car. So dress your child in a lightweight jacket or sweatshirt. If extra warmth is needed, don't be tempted to add an 'after market' insert to your child's car seat. Instead, add a blanket over the top once they are snugly buckled in. Then, change them into their bigger jacket once you arrive at your destination. See these tips in video form as covered in a KING 5 Healthlink segment.
Come learn how to properly install your child's safety seat into your car and how to secure your child in the safety seat at one of our free upcoming car seat safety checks.
Switching to a 'Big Kid' Bed

Is your little one ready for a 'big kid' bed? Most kids make the switch between 18 months and 3 years. Cribs are safest, and some tots are not eager to give up this cozy sleep spot. However, if your child climbs out, or is potty trained and needs quick access to the bathroom, it's time to switch. Make the change a positive experience. If possible, let your child help choose the bed, or at least the bedding. Make a big deal of showing the new bed to visiting family and friends. If it's a standard height, attach a guardrail so your child doesn't roll out. And remember that no child should sleep in the top of a bunk bed until they are 6.
Stay Fit with Indoor Fun

Kids need 60 minutes of exercise each day – even when the weather is cold and wet, and daylight hours are shorter. Indoor fitness is easy if you plan ahead and are creative. Move the furniture to make room to jump rope or hula-hoop, or create a hopscotch course on the carpet with masking tape. Set up fitness stations throughout the house: pushups in the bedroom, crunches in the hallway, planking in the family room, and a stair-climb on the real stairs. Music makes exercise more fun, so let your child choose the tunes and crank up the volume. If you have a game console, try a new dancing or fitness game. Stay hydrated with water, and be sure to join in the fun yourself.
Learn more about exercise and children.